How to Introduce Colour into Your Stacks for Spring
Posted by EMMA TAYLOR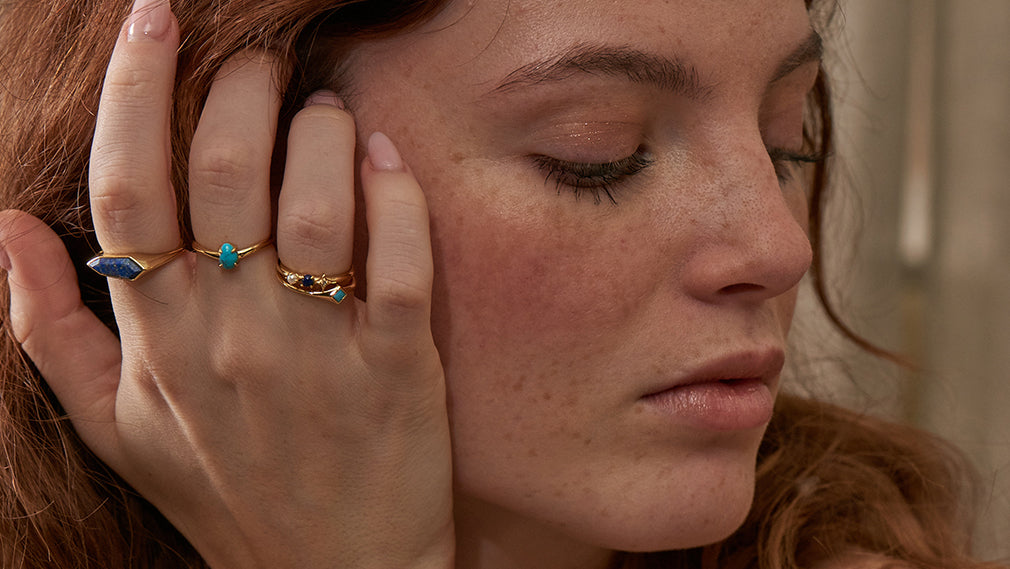 Opt for Colour Pops This Season
We've said it before and we'll say it again, colour for spring is IN. We're obsessed with all the bright and beautiful colour pops we're seeing in jewellery trends for spring and summer this year. And if you're wondering how best to style these pops of bright colour into your earring and ring stacks, we've got you covered. From this season's biggest hit – colourful gemstones – to bright splashes of coloured enamel, the latest Ania Haie collections are packed with stunning ways to incorporate some on-trend colour into your looks for the season ahead. Here's what we'll be adding to our collections this spring.
Colourful Gemstone Jewellery
The runways for spring and summer were jam-packed with colourful gemstones this year. From Louis Vuitton to Gucci and Tom Ford, we're seeing trends of blues, pinks, greens and it all comes down to statement gemstone details. Whether it's a bold cocktail ring or a bright and colourful stone-encrusted pair of hoops, make colourful gemstone jewellery your statement item of choice this season.
With a nod to this super chic trend, the latest Ania Haie collections are prepped and ready to serve you with all the coloured-stone goodness. Think pink rose quartz, green amazonite or malachite and incredible blue lapis for the perfect pops of colour to add to your stacks.
Switch up your regular ring stack rotation with our statement Lapis Emblem Ring or  Malachite Emblem Ring. Mix up your earring stacks by incorporating some on-trend seasonal green with our stunning range of turquoise-coloured stone earrings in the all-new Making Waves collection. Fancy a touch of spring-fresh pink? Head straight to the ultra-modern Spaced Out collection and discover our head-turning Orb Rose Quartz Mini Hoops.
Coloured Enamel Jewellery 
A unique and contemporary way to add some colour to your stacks for spring is through the bold and bright enamel jewellery in our Neon Nights and Bright Future collections, perfect to nail this season's colour pop trend. Serving statement colour that mixes and matches with your regular rotation of jewellery, discover studs, huggies and rings, all finished with a pop of coloured enamel detailing. 
Make neon your new BFF for spring by adding a bold neon blue Enamel Hoop to your stack or go pretty in pink with a pair of Neon Pink Enamel Huggies. A coloured Enamel Bar Ring is the perfect way to spice up your ring stacks or pair up the colour and signet ring trend with our Enamel Emblem Ring, perfectly finished with a touch of sparkle.  
Fancy a splash of colour for the new season? Do it with your jewels with the updated Ania Haie collections and you can't go wrong. Think mix and match, plenty of creativity and bundles of your unique style. When the jewellery trends are this good, why not opt for something a little different from your go-to looks? And don't forget to show us how you're styling your new pieces by tagging us on Instagram.
Collection 2019
Sale 70% Off
Third slide