Get to Know Our Latest 14kt Gemstones
Posted by EMMA TAYLOR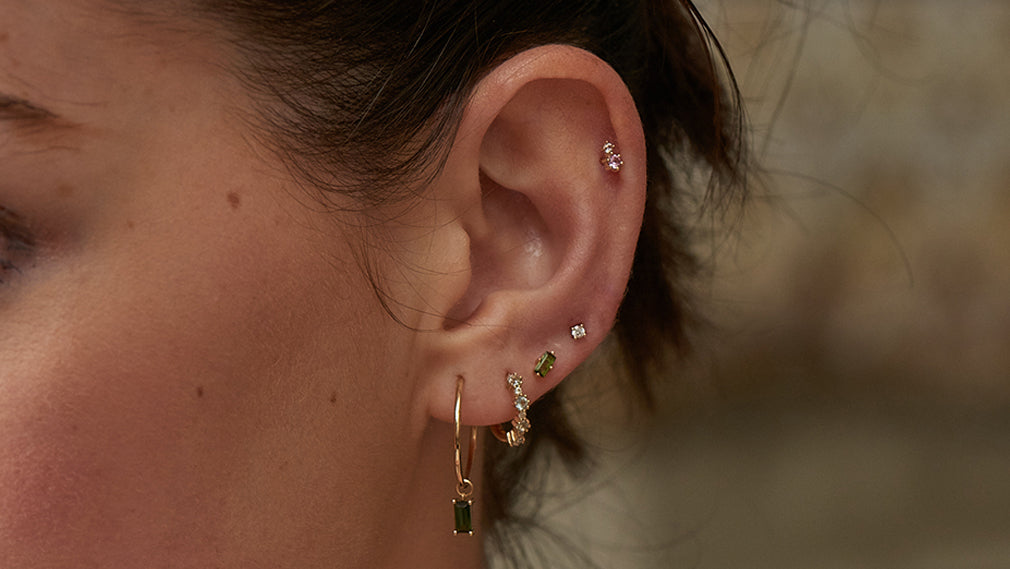 It's All About Colourful Gemstones This Season
Our latest collections are perfectly designed to pair up with one of this season's biggest trends – colourful gemstones. And when it comes to delicate, spring-inspired colour, our 14kt Gold Collection updates are packed with delicate, feminine and easy-to-wear pieces with hints of blue topaz, soft green peridot, nature-inspire green tourmaline and sparkling pink sapphires. Teamed with 100% recycled solid gold, it's the perfect pairing for your spring wardrobe update.
Blue Topaz
Discover effortlessly chic and delicate spring tones in the Wild Meadow collection, as part of our updated 14kt Gold Collection, this season. Serving up hints of sparkling blue topaz stones, this fresh and ideal-for-spring collection gives you just a hint of colour for the perfect new-season collection update.
In a chic nod to a classic spring colour palette, the blue topaz sprinkled through the brand-new Wild Meadow collection is the perfect choice. Try a striking pair of White Sapphire and Blue Topaz Huggie Hoops to update your earring stacks or opt for similar sparkle for your ring stacks with our beautifully-crafted White Sapphire and Blue Topaz Ring.
Peridot
Fancy just a whisper of a spring palette in your new-season looks? Look to the stunningly soft peridot stones, also in the Wild Meadow Collection. Super subtle with a hint of luxurious sparkle, you'll find delicate green peridot pieces, designed to be worn simply or as part of your unique layered look this season. 
Add a hint of luxe sparkle to your everyday looks with our perfectly delicate Peridot and White Sapphire Bracelet or clustered Necklace.
Tourmaline
Luxe tourmaline stones are a favourite for us at Ania Haie this season. We've crafted the beautiful Twilight Garden collection, as part of the 14kt Gold Collection to serve up all the garden and nature-inspired hues you could need for spring. This super soft and calming hue is paired with luxe white sapphires for the perfect balance of sparkle, spring colour and wearable style.
Elevate any look in an instant with a pair of our stunningly simple Tourmaline Stud Earrings or opt for something that makes a bolder statement, like our Tourmaline Drop Mini Hoops. Paired with either a pop of natural green in a pendant or bar necklace, it's the ultimate way to update your collection for spring.
Pink Sapphires 
Head back into the Wild Meadow collection and you'll find a sneak peek of the perfect pink sapphires to satisfy all your spring floral cravings. Providing an effortless touch of femininity, these pink sapphire pieces are more than just pretty. With a luxe twist, they're the ideal treat to elevate your spring looks with a summer bloom hint of sparkle. 
Adding a touch of spring-fresh pink to your look has never been easier. Opt for a chic and luxurious pair of White and Pink Sapphire Stud Earrings or our incredible Pink Sapphire Flower necklace, which promises to add the perfect touch of springtime sparkle to your collection.  
Give your jewellery collection a spring-inspired refresh with our latest 14kt gold gemstone edits. Dive into the Wild Meadow collection and twirl through the Twilight Garden collection to discover stunning and delicate spring-loved palettes with the perfect hint of luxury sparkle at Ania Haie.
Collection 2019
Sale 70% Off
Third slide