Under Lock & Key Collection Launch
Posted by AUDREY COUDYSER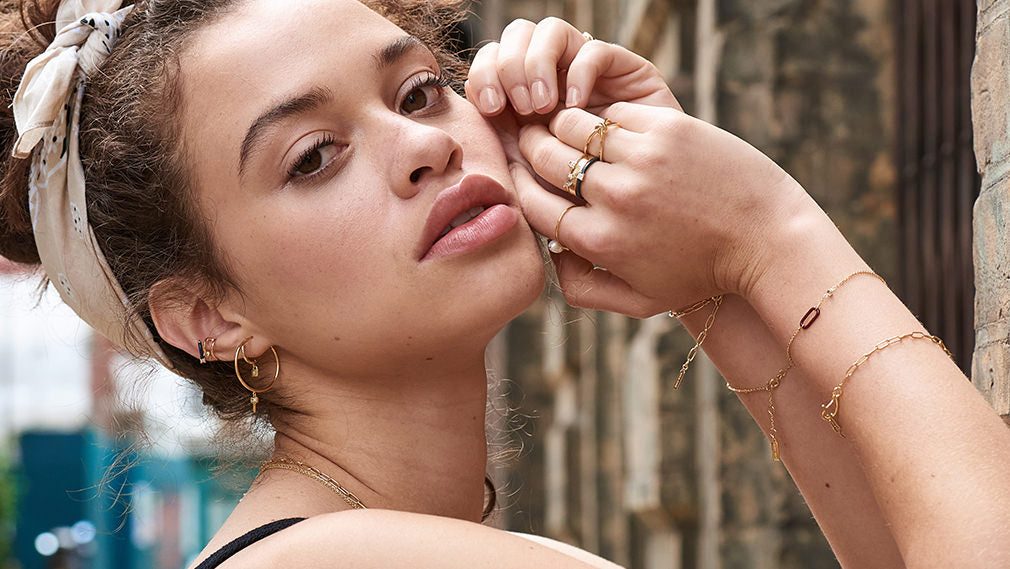 Opt for Wearable Hardware This Autumn
This season, chunky hardware detailing was difficult to miss on all of the biggest and hottest runways. From super OTT chains to hardware motifs and actual tools as unique added details, this trend is turning heads for autumn and winter this year. Inspired by what we saw on the runways, we set out to create a wearable way to do the hardware trend in our signature Ania Haie style. Introducing our Under Lock & Key collection, launching brand new this October.
Crafted in 925 sterling silver and 14kt gold plated pieces, the Under Lock & Key collection embodies this season's hardware jewellery trend while making it wearable and versatile for your everyday style. Finished with glimmering cubic zirconia details, each piece is the perfect balance of on-trend and luxe. Nailing that desk to dinner style that we all crave this time of year.
It's All in The Details
How to make a bold trend like hardware wearable for everyday? It's all in the details. From beautifully cut keys to chunky on-trend padlock pendants, the Under Lock & Key collection focuses on the finer details.
Take our brand new super sleek Key Hoop Earrings. The perfect everyday hoop to wear with anything from sharp tailoring to luxe loungewear is finished with the addition of a beautifully crafted key drop detail. With sparkling cubic zirconia to complete the look, obviously.
Stunning studs are crucial to complete the earring collection. And we created the perfect shimmering studs in both key details and padlocks, allowing you to pair up or mix and match.
The perfect stackable bracelets? Under Lock & Key has you covered with both delicate and chunky chain bracelets, perfect to stack with other pieces from your collection or your favourite everyday watch. And always finished with a luxe padlock charm detail to ensure your look is effortlessly on-trend.
The collection is finished with a choice of perfect everyday pendant necklaces. Wear them solo or layer them up, choosing between keys and locks or stacking them together.


Designed to Mix & Match
As always, the Under Lock & Key collection is designed to mix and match, allowing you to create your own unique take on the trend. At Ania Haie, we're a fan of switching things up. So, pair up different pieces from the collection together, switch between metal colours for a unique stack AND play with your look by styling lock and key pieces with trends from our other collections too.
Freshly launched this October, the Under Lock & Key collection is your perfect autumn/winter jewellery box update. Taking a major runway trend and making it easy to wear and style for every day, why not experiment with your signature style this season? With the perfect sprinkle of sparkle, give your jewellery collection a seasonal revival with just a couple of key pieces. Shop now on Ania Haie.
Collection 2019
Sale 70% Off
Third slide