Turning Tides Collection Launch
Posted by EMMA TAYLOR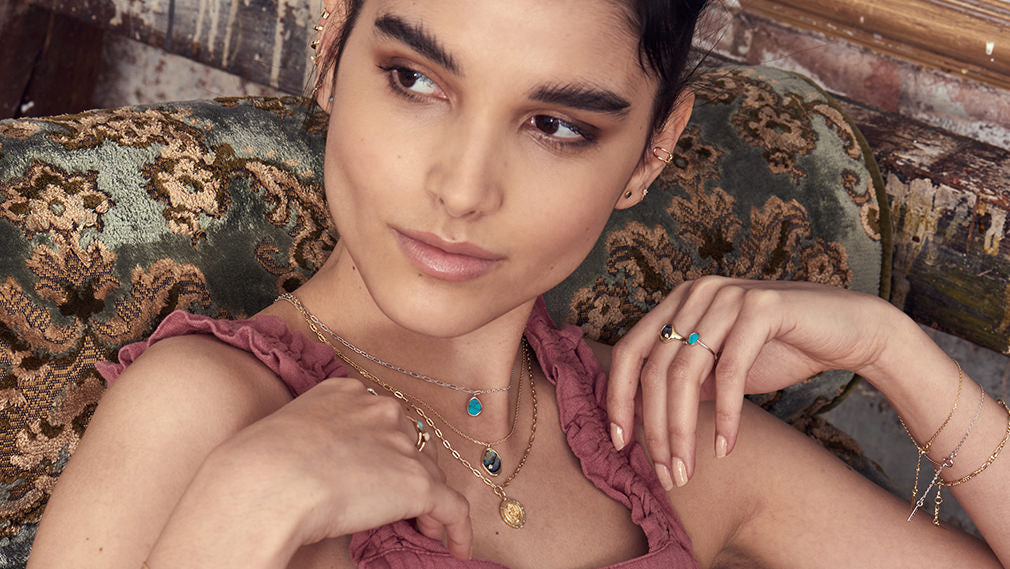 Discover Our New-Season Collection, Turning Tides
Inspired by the sea and the colours and eternal movement of the waves, we are so excited to introduce the launch of our Turning Tides collection.  
There was a bold and effortlessly striking trend on the Spring/Summer '21 runways that immediately stood out to us. Inspiring us to delve a little deeper into a blue colour palette and explore the notion and aesthetic of the perpetual turning tides of our oceans, we created a concept that quickly became our newest collection.
Turning Tides
Why turning tides? This collection is all about adding colour to your everyday looks. And what better colour than the hues and palettes inspired by our most natural and outstandingly beautiful settings, our oceans.  
From the rich fabrics of shimmering satin to the depths of iridescent natural stone, we transferred this Spring/Summer trend into accents within our jewellery designs. With pops of bold colour and flashes of lustrous texture.
Abalone and Turquoise
This collection introduces the use of both abalone shell and turquoise stone. Two stunning and equally striking pops of colour that make this collection so different from any other Ania Haie range.
Abalone is sourced from the ocean itself from shells of molluscs. Known for its natural beauty and kaleidoscopic shimmering colour palettes, abalone is also said to hold healing properties and promote balance.
The silver pieces in our Turning Tides collection are set with turquoise. This natural and mined mineral is known best for its bright green-blue colour palette, which makes it the perfect choice to set against silver. One of the oldest stones to be found, mined and worn, turquoise is said to be a stone of protection and strength, making it an ideal gift.
How is the Turning Tides collection made?
As always, this collection is carefully crafted using only the highest standard of materials and detailing.
The gold pieces within the collection are made using 925 sterling silver. This is then expertly plated with 14k gold to create the perfect, robust bright gold finish you know and love. Our gold pieces are set with abalone shell detailing to create the distinctive bright pop of colour. The perfect combination of rich hues.
The silver pieces within the collection are made using 925 sterling silver once again. To create a hard-wearing and long-lasting bright silver finish, these pieces are then plated in rhodium. Ensuring you can wear every piece day after day without worrying about tarnish. The silver pieces in the collection are set with bright pops of turquoise, adding a unique and naturally veined finish to each and every design.
This season, we're focusing on adding colour accents to both everyday jewellery and evening looks. Whether that's a tiny touch of iridescent abalone at the wrist or a statement pop of bold turquoise at the neck or ear.
Dive in and browse the Turning Tides collection – just launched – and discover the perfect way to incorporate just a touch of colour into any jewellery look. We'd love to know what you think!
Collection 2019
Sale 70% Off
Third slide