Trending: Mother of Pearl Jewellery
Posted by EMMA TAYLOR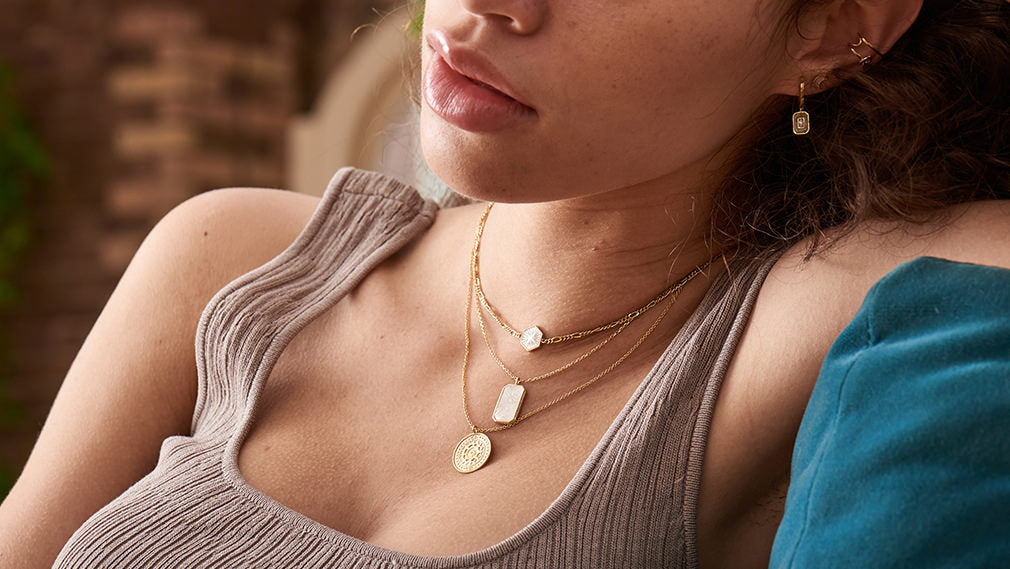 How to Style Mother of Pearl This Season
Making a shimmering appearance on the scene this season is the stunning stone, mother of pearl. Sourced from pearl oysters, this beautiful natural substance is the effervescent detail missing from your jewellery collection for autumn and winter this year.
Why mother of pearl? Apart from its obvious beauty, the use of mother of pearl in jewellery comes with a host of meanings and symbolism – just another reason we love to include it in our collections. Said to attract wealth and good fortune, mother of pearl is also known as healing energy, protecting from negativity and helping to balance the mind for true inner calmness.
Discover some of our favourite mother of pearl jewellery pieces laced into several of our latest collections. Our Wild Soul collection is packed with elegant, bohemian-inspired pieces that centre around this stunning stone. Hidden Gem teams mother of pearl accents with modern shapes while the Bohemian Dream collection balances slices of mother of pearl with delicate boho pieces, perfect for day to night.
How to Wear Mother of Pearl
The perfect balance of trend and classic, mother of pearl is a chic addition to your collection this season. Yes, it was a huge hit on the runway making it one of the biggest trends for the upcoming season, but this is no fad. Mother of pearl's natural and timeless beauty makes it the perfect long-lasting addition. It also makes it much easier to style than you might have imagined.
Here are just a few of our favourite ways to wear mother of pearl this autumn.
Go Modern & Chunky
Give mother of pearl a whole new vibe and choose chunkier pieces with a definite modern edge. From our Hidden Gem collection, a design like our stunning Mother of Pearl Disc Ear Jackets is the perfect new-age way to wear the pearl.
Add Glam to Your Stack
Creating unique earring stacks is a huge trend for this season still. So, why not pair up two trends in one and add some serious glamour to your stack with a touch of mother of pearl.
Make a start by trading out your simple studs for our Mother of Pearl Stud Earrings – our stunningly simple earrings from the Hidden Gem collection will do the trick perfectly. Time to update your huggie collection? Do it this season with a pair of Compass Emblem Huggie Hoops finished with shimmering mother of pearl. Perfect every day and when you need something extra special.
Choose A Statement Signet Ring 
Signet rings are huge right now. But there's one way to make them even better and that's with the addition of mother of pearl. Both our Eclipse Emblem Adjustable Ring and our Mother of Pearl Emblem Signet Ring are the perfect examples of this classic piece with a touch of shimmering pearl. 
Shake up your jewellery collection this season with a slice of iridescence with some striking mother of pearl. Whether you're dressing it up for night time or keeping it more casual for the day, create a unique look that's all yours with the perfect mother of pearl accent to finish it off. Shop for inspo with the latest collections from Ania Haie.
Collection 2019
Sale 70% Off
Third slide