Top Trends for Spring '23
Posted by EMMA TAYLOR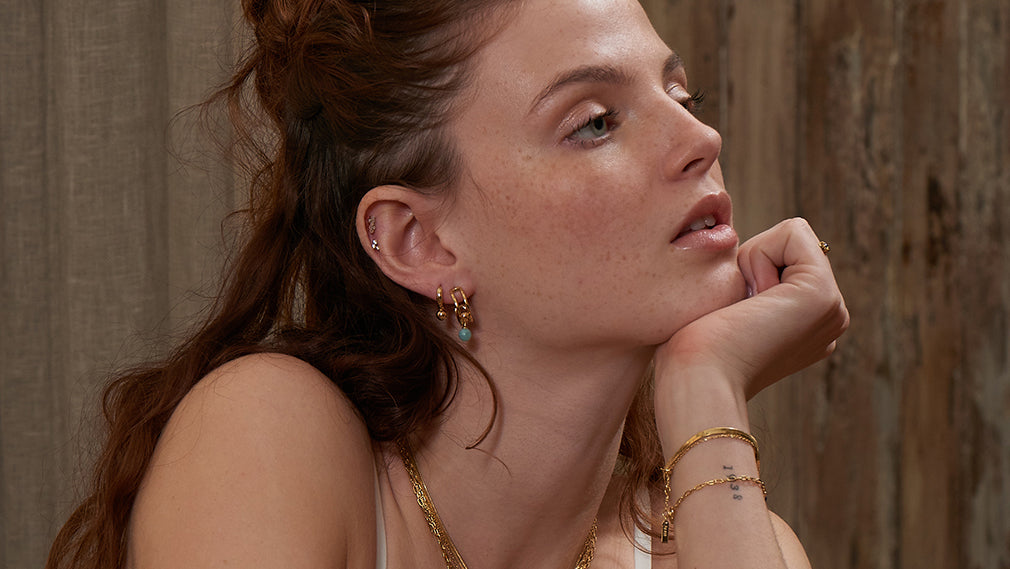 Spring Jewellery Trends You Can't Miss
Looking to update your jewellery collection with some key pieces for spring and summer? This season's trends are some of our favourites so far, so you know we've been inspired by plenty of them in the latest Ania Haie collections. From OTT pearl details to colour and florals, this spring, we're opting for bold looks, gorgeous detailing and, as always, key staple pieces that are easy to layer and stack together for a unique look.
Here are some of our top trends for spring '23.
OTT Jumbo Pearls
Pearls are in the spotlight for this spring. The difference? Go BIG. Modern, shimmering and beautifully oversized, OTT pearls are serving up all the luxe details your spring/summer looks are craving for 2023.
Shop this trend in an instant with our brand-new Pearl Power collection. You'll find statement pearl huggies, stunning jumbo pearl pendants and modern pearl bracelets.
Statement Silver
We're seeing an outpouring of love for silver jewellery this season in contrast to the heavy gold pieces we've been seeing lots of in recent seasons. This is the perfect update for your collection if you've been playing with lots of gold and fancy a new look. Strong, statement chunky silver styles are the ones to watch out for.
Add some chunky, modern silver to your wardrobe with our Making Waves collection. Try the beautifully sculpted Wave Huggies or our chunky Wave Ring. Or inject some bold colour to the trend with our statement silver turquoise-stone pieces.
It's All About Cocktail Rings
Cocktail rings, also called power or statement rings are big on the agenda this season. Cocktail rings are the perfect way to add some shimmer and statement style to your look. Wear them on any finger, but nail the look with them on your pinky!
Go for bold green with our Malachite Emblem Ring or team two trends together and opt for our incredible Pearl Sculpted Ring.
Colourful Gemstones are In
Maximalism is huge this season and it's all about bold colour when it comes to your jewellery. On the runways, we saw big, bright and beautiful gemstones, worn as solo statement pieces, as well as paired together in mix and match style looks. 
Our Twilight Garden collection is all about bold colour. You'll find stunning green tourmaline earrings, necklaces and rings. The perfect way to add this season's biggest colour to your stacks.
Make it Spherical 
From circles to spheres, it's all about rounded edges this spring. The runways were awash with this modern aesthetic and we've been inspired by this trend to create some super chic and spherical style within the new-season Ania Haie collections. 
You won't be stuck for choice with our new Spaced Out collection, packed with all the orbs and spheres your collection could need. Try our Orb Link Chunky Chains or orb-inspired huggies to add some cosmic energy to your looks.
Wild Flowers 
Florals in spring never miss the mark and this season, the floral look is all about pretty, delicate wild flowers with a hint of stunningly soft colour. Think 3D detailing and plenty of luxe sparkle. 
Head straight to our new Wild Meadow collection to get this look down. Try our stunning White and Pink Sapphire Flower Necklace to add some sparkling florals to your everyday looks this season.  
Make the trends your own this spring with some of the key looks from the runways. Easy to style into your collection and pair with your current faves, these trends are serving up colour, fun and creativity and we know you'll be styling them to look incredible. Remember to tag Ania Haie on Instagram so we can re-post your looks!
Collection 2019
Sale 70% Off
Third slide