The Ania Haie Christmas Gift Guide
Posted by EMMA TAYLOR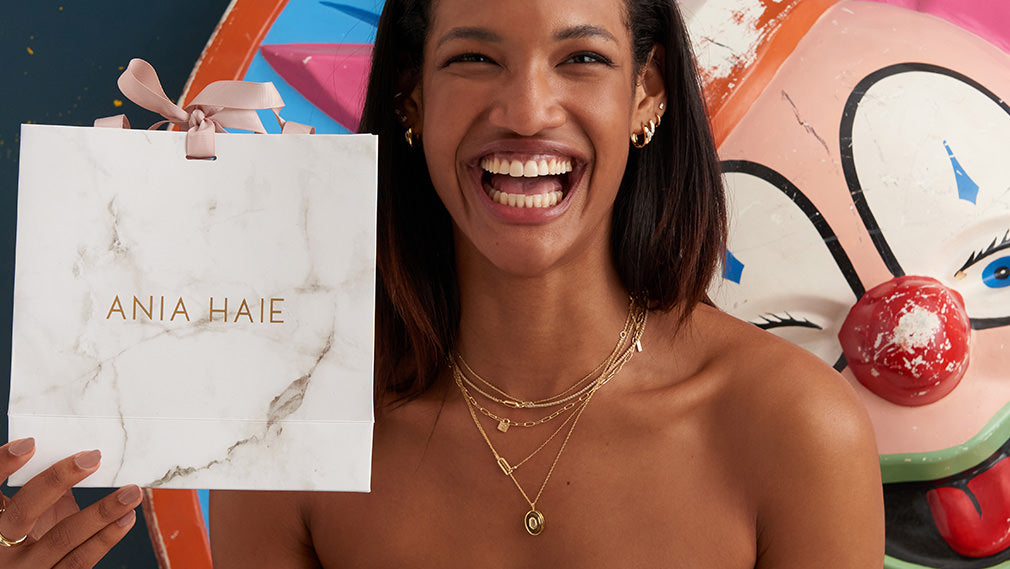 Get Your Christmas Shopping Done Early with Ania Haie
Yes, we're saying it – Christmas is coming! And it'll be here sooner than you think! So, to allow the easiest way to shop for gifts for your loved ones, we've created the ultimate jewellery gift guide. Everything in our Christmas jewellery gift guide is split into price points so you can find exactly what you need for your friend, mum, sister or partner (or anyone else you're shopping for!). So, whether you're on the hunt for a special little stocking filler to make someone smile or something truly incredible and jaw-dropping for someone you love this Christmas, we've got you covered.
Stocking Fillers Under €30
Who said stocking fillers had to be cheesy or silly? The perfect stocking filler oozes style and elegance – but with this gift guide, you can keep the price point under €30 too! 
Find a stunning ring that looks like a million dollars but comes in at under €30 in many of our collections. The beautiful Turquoise Gold Ring is the perfect choice for anyone who loves some colour and if simplicity is their thing, opt for the minimal Modern Double Ring. Surprise them with earrings under €30 with our Single Barbell Studs or a super chic pair of Twist Studs. You'll even find pendant necklaces in budget, like our gorgeous Orbit Ball Necklace.
Gifts Under €55
The perfect gifts for under €55? We've got you covered in this section of the Christmas gift guide. And these are no ordinary inexpensive pieces of jewellery – they're incredibly special and packed with surprising gemstones that make them feel extra luxe.
Discover our amazing Turquoise Gold Pendant which is less than €55 or our spectacular silver and Malachite Star Necklace.  Searching for a special ring under this price point? Try our super sparkly Multi Stone Ring or help to protect your loved ones from negativity with the ultra-chic Lapis Evil Eye Ring. Possibly the perfect gift idea for this season? On-trend snake chains – and you can get our gorgeous sleek Snake Chain Bracelet for well under €55.
Gifts Under €110
If your budget allows for a gift under €110, why not go for something that makes a statement? And at Christmas time, the statement should always sparkle! Try our brand-new Sparkle Chain Interlock Necklace packed with shimmering cubic zirconia or our super modern faceted CZ Drop Pendant. She wouldn't believe these pieces are under €110. Choose a statement gemstone-encrusted ring like our Teal Sparkle Emblem Ring or the rich blue Lapis Emblem Ring for the perfect touch of on-trend colour.
Luxe Gift Ideas 
If you have a very special gift on your shopping list, you'll want to check out our luxe gift ideas. Here, you'll find our luxury 14kt Gold Collection with our most stunning, solid gold pieces complete with diamonds, sapphires, turquoise stones and incredible opals. In this collection, we've designed beautiful everyday jewellery with a luxury twist. You'll find diamond earrings, pendants, delicate chains and more.
If you're looking for the perfect necklace gift this Christmas, try our spectacular Diamond Pendant Necklace in solid gold or our stunning Diamond Key Necklace. Opt for celestial vibes with our Stargazer Diamond Moon Necklace or keep it classic with our best-selling Pearl and White Sapphire chain. A pair of luxury earrings can never steer you wrong at Christmas time. So, try our beautiful Magma Diamond Huggies or our Bezel Diamond Studs for ultimate simplicity. Thinking about a ring? From a simple gold band ring to a diamond-encrusted style, you'll find the perfect luxe ring in this collection for Christmas time.
Get your Christmas shopping done and dusted with the Ania Haie jewellery Christmas gift guide. Find the perfect jewellery pieces for your family and friends – and maybe even a little treat for yourself. Because it's Christmas, so why not!? All our jewellery comes in our beautifully crafted and branded packaging, making it the perfect Christmas gift this year.
Collection 2019
Sale 70% Off
Third slide