Summer Wardrobe Saviours – The Accessories of Summer 2021
Posted by EMMA TAYLOR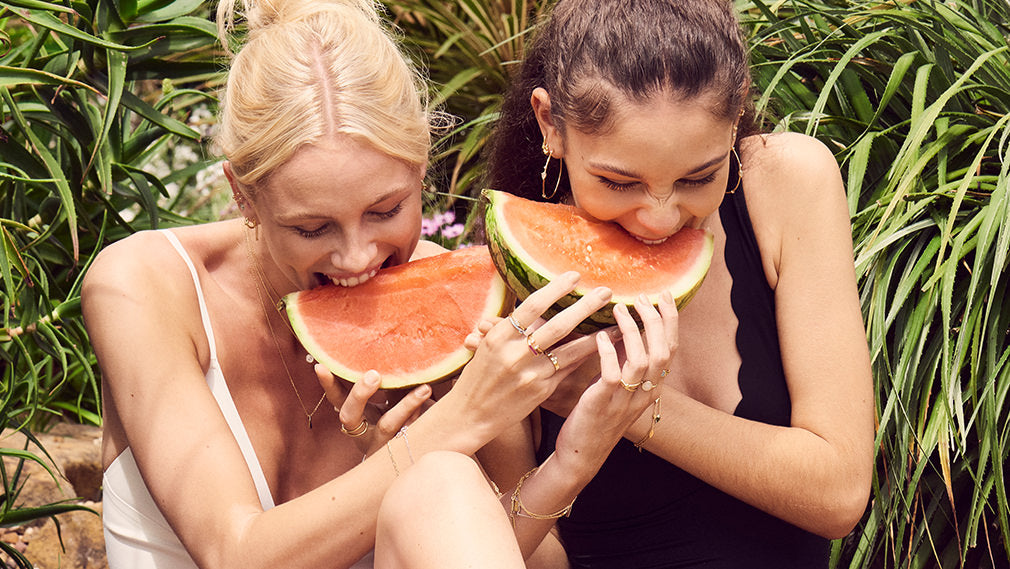 Get Creative with Jewellery This Summer
Whether you manage to bag a flight into the sunshine this summer or you decide to keep it local and opt for a staycation, your summer wardrobe update is all about accessories. And by accessories, we're talking jewellery.
This summer, we're obsessing over getting creative with unique layering as well as bold statement pieces that ooze personal style. While simplicity has been cute, this season, break out of lockdown with an accessories look that gets you in the mood for some fun in the sun.
Here is a snippet of what we'll be doing with jewellery this summer.
Take Your Statement Earrings Up a Notch 
This season, we're not playing when it comes to statement earrings. The bigger, bolder and more fun, the better. And this is the perfect transitional accessory to take you from a laid-back beach look to bar-ready. No change needed.
Wear yours with bikinis and swimsuits and then throw on a maxi and you're good to go.
From bold hoops, like our Curb Chain Hoop Earrings or our brightly coloured Tidal Abalone Crescent hoops to our unique drop medallion earrings, Axum Mini Hoop Earrings, the latest Ania Haie collections have you covered.
Chic Summer Dinners Call for Extra Layers
And by this, we don't mean popping a cardigan in your bag for when it gets chilly. We mean extra layers when it comes to your jewels.
If you're headed out to a chic summertime dinner anytime soon, keep your look simple and classic and instead, pay close attention to layering up those necklaces, earrings and rings. No layer can lead you wrong this season.
Our Chain Reaction and Luxe Minimalism collections serve up the perfect foundation for any layered look.
Mix and Match with a Difference
For those sticking to a staycation this summer, it doesn't mean dressing up needs to get left behind. In fact, we think the dressier, the better.
Use this opportunity to play with your collection and the combinations you can create. Try something that you wouldn't normally piece together to come up with a new look that's perfect for all the summer vibes.
Start with a chunky chain necklace as your base piece – try our Horseshoe Link Necklace – and then add in an on-trend medallion style chain like our Emperor T-Bar Necklace. Finish with our contrasting Midnight Necklace for an unpredictable and unique stack.
Don't Get Scared of Colour
Now, this is not the season to be fearful when it comes to adding colour to your jewellery collection. Actually, 2021 is all about the colour – and so are we.
If brightness isn't something you've experimented with before, this is the perfect sartorial opportunity to get a little lively with your style.
Dive into the Bright Future and Turning Tides collections for plenty of pops of bright and bold colour. 
From the French Riviera to a countryside retreat in the UK, summertime and holidays mean dressing up and it's one of our favourite reasons to get busy styling jewellery. If there's one rule worth following when it comes to summer 2021, it's to fight the urge to play it safe and get creative with boldness, colour and OTT layering.
Shop the latest Ania Haie collections for the perfect touch of summer style that your wardrobe is craving. 
Collection 2019
Sale 70% Off
Third slide