Pretty In Pink: The Barbiecore Trend
Posted by EMMA TAYLOR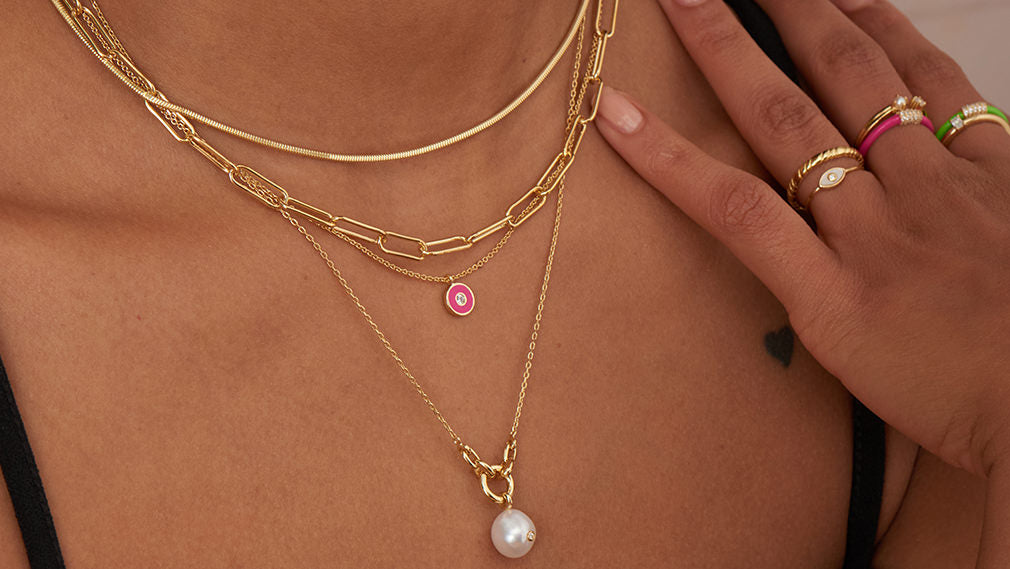 Embrace the Barbie Trend This Summer
With the very exciting release of the new Barbie movie this summer – July 21st to be exact! – we're giving pink a well-deserved moment right now. Whether you're a seasoned pink lover or you usually stay away from the girly hue, now is the time to embrace all things pink and the latest Ania Haie collections have got you well and truly covered with options. From neon to gemstones, whatever style of pink gets you in your Barbie feels, update your collection in time for this iconic movie opening. Here's how we're adding pink jewellery to our collections this summer.
Go 'Extra' with Neon Pink
If you're going to opt for true Barbie style, why not go all in with some seriously on-trend neon pink jewellery? This is a statement look but with the right picks, you can slip a couple of chic neon pink pieces into your everyday looks and transform them into your personal style. 
Head to our Neon Nights collection for all the neon pink enamel jewellery you could ever need to update your collection. Try adding a pop of neon to your layered necklaces with this cool pink enamel pendant or Barbie-up your earring stacks with a pair of pink huggies or hoops. Want a subtle pop of neon? Just add a pink stacking ring to your rotation.
Bold Pink Enamel Pieces 
If neon isn't your thing, our Bright Future collection is packed with bold enamel pink jewellery that serves as a nod to the Barbie trend in a slightly more discreet and versatile way. These deeper berry pink pieces are perfect for transitioning through the seasons, so you know you'll be wearing them all year round.
Try a pink enamel ring for your stacks or opt for smooth hoops with a flash of the must-have palette. Layer your wristwear with a delicate pop of pink enamel with our pink bar bracelet.
Choose Rose Pink Gemstones
If the gemstone trend is calling your name this season, combine it with some Barbie inspired hues with the stunning rose quartz jewellery in our brand-new Spaced Out collection. 
A seriously gorgeous pendant for your collection, opt for luxe Barbie style with our new Orb Rose pendant necklace, featuring an orb of super-girly rose quartz. The coordinating rose quartz mini hoops are another perfect option for a pop of chic pink and make a chic addition whether you love to stack your huggies and hoops or wear them solo. Want simple and perfect for everyday wear? Head straight to your stunning rose quartz studs for an elevated stud option that will dress up any look from day to night.
Get Pretty in Pink this summer in honour of Margot and Barbie herself. It's the perfect way to add the 'pop of colour' trend to your jewellery collection – so why not make it bright pink this summer? Head to the 
New In
 edits at Ania Haie to discover pink jewellery, your way.
Collection 2019
Sale 70% Off
Third slide