Necklace Layering Top Tips
Posted by EMMA TAYLOR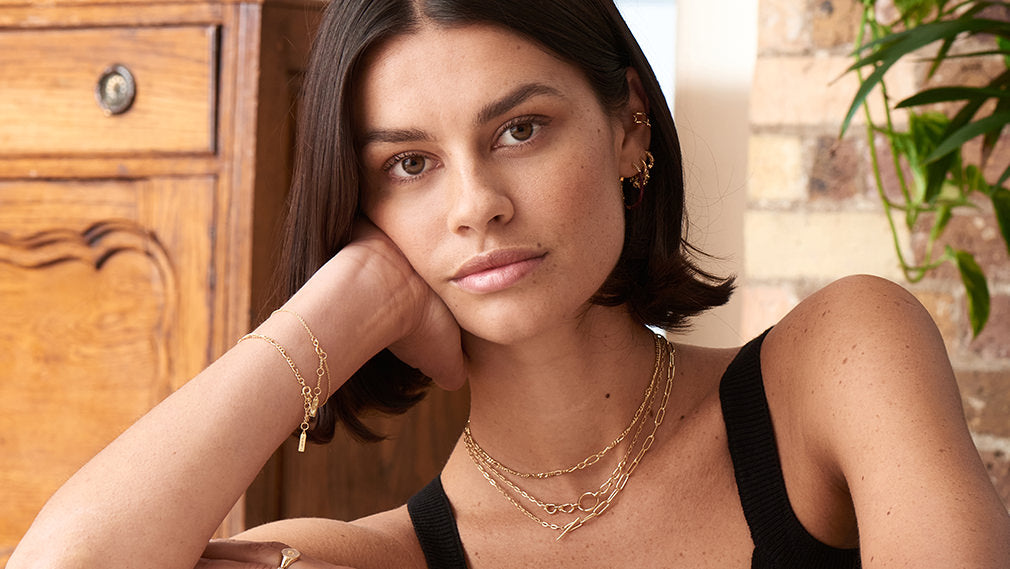 How to Layer Your Necklaces for Autumn/Winter
One necklace just isn't enough anymore. Don't you agree? Layering necklaces is one of the biggest jewellery trends of late. And it's not leaving us behind any time soon. In fact, layering is becoming an increasing obsession for jewellery and fashion lovers as it's the perfect way to build a unique look that no one else is rocking.
So, how are you layering your necklaces for autumn and winter this year? If you need inspo, these are some of our seasonal hacks for 2021.
Choose Longer Layers
In winter, we tend to be wearing chunkier clothing – knits, oversized jumpers and coats and jackets. Which can make styling necklaces a little trickier. One of our favourite things to do this time of year is to opt for longer layers when it comes to our chains.
From longer set pendants, like our Greek Warrior Necklace to our super stylish collection of lariat and Y necklaces, a longer length chain takes some of the focus away from the neck and helps spread your layered look out a little.
Inject Some Seasonal Colour
The perfect way to update your necklace layers for the new season? Add in a pop of autumnal colour for a whole new look. An instant way to update the rest of your necklace collection, why not choose a seasonal hue to add to your look? From forest greens to bold and vibrant claret reds, why not opt for one of our coloured enamel pieces from the newly updated Bright Future collection?
Play with Different Types of Chains
A key look for this season – and one of our faves - is mixing up your chain types. Playing with different weights and textures of chains creates a truly unique look to call your own. Start with a super chunky chain as your shortest piece. Our Emperor T Bar Necklace or our Horseshoe Link Necklace would work perfectly. Then, start building up your stack, adding a selection of different chain types, like our Mother of Pearl Drop Disc Necklace or our Geometry Mixed Discs Necklace to create added texture and dimension.
Experiment with Pendants
Add detail to a necklace stack this autumn by playing with more than one pendant at a time. Choose different length chains when selecting your necklaces to ensure each pendant gets a little glory but don't be afraid to layer multiple pendants together. Start smaller on your shorter chains and finish with your longer chain and biggest pendant to create a stack that looks effortlessly styled.
Simplify 
If a simpler look is your aesthetic, then don't overcomplicate things. Sometimes, layering the most delicate and simple chains can create the most striking overall look. When choosing your pieces, just select similar weighted chains with different lengths. This way, when layered together, they'll create a cohesively styled look but you won't risk the chains twisting together.
Give this simple layered look a slight edge by switching up your metals and selecting some gold and some silver pieces. Whether you're pairing this with a high-neck bodysuit or a chunkier sweater, it's perfect for a chic autumn/winter vibe.
Layering your necklaces is the trend that is going nowhere. So, this season, start creating your own unique stacks to suit your style. From chunky chains to elegant pendants, there's a perfect way to layer up every necklace for autumn/winter this year. Time to get experimenting! Get total necklace inspiration for the season ahead with the latest collections at Ania Haie.
Collection 2019
Sale 70% Off
Third slide