How to Wear The 'Quiet Luxury' Trend
Posted by EMMA TAYLOR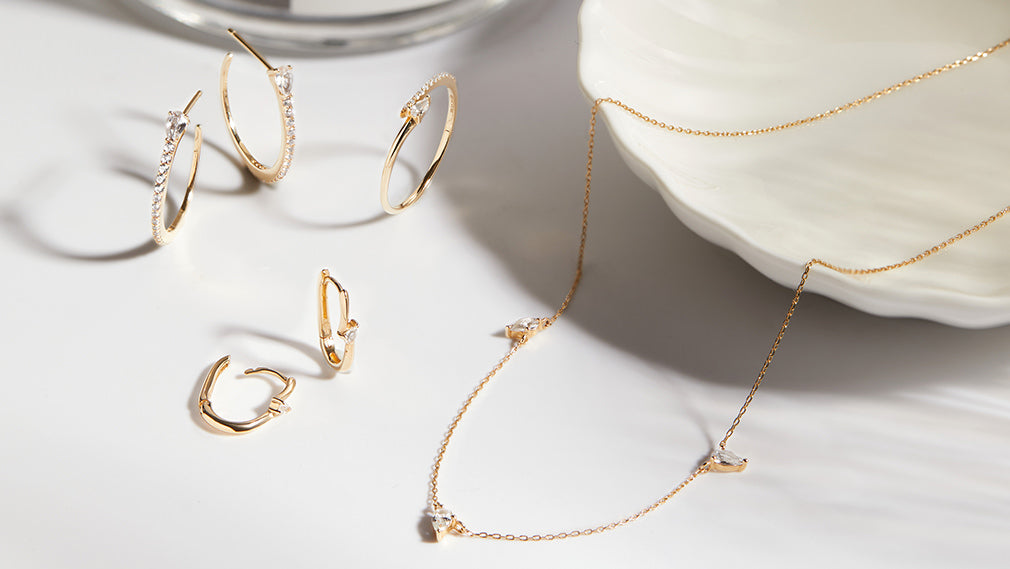 What is Quiet Luxury and How Do You Do It?
Quiet Luxury is the latest trend that's taken over the fashion pages. Minimal, chic and understated are all words to describe quiet luxury. But what does it actually mean? In line with the current economic times, quiet luxury is the new way of doing sleek minimalism – paired back pieces, investment choices and versatile picks that can be worn in multiple ways to avoid over-buying. In short, quiet luxury is all about using your choices to ooze a luxe vibe without having to resort to OTT designer spending. And this trend is right up our street. 
Here's how we are doing quiet luxury at Ania Haie.
Minimalist Chains
No quiet luxury look is complete without a collection of minimalist chains. We created the Link Up collection to serve you with exactly this – a small capsule collection of chic chains that can be worn solo or layered and stacked together to create a look that is as minimal or styled as you like.
You'll also find plenty of stunning minimal chains in our Taking Shape collection with delicate gold chains a-plenty, paired with modern sculptural and textured detailing. 
Jewellery Box Staples 
The main way to be a part of this quiet luxury aesthetic is to elevate and update your go-to jewellery box staples. These are your foundational pieces that you wear day in and day out and style with everything else in your collection. 
Our Smooth Operator collection is the perfect place to start, here you'll find a small edit of smooth, sleek and simple pieces from super-versatile snake chain necklaces to textured, chunky huggie hoops and stacking rings.
Opt for classic details, like pearls, but choose modern twists on these pieces that allow them to become your most worn and most timeless jewellery essentials. Find classic concepts like this in our stunning Pearl Power collection.
Buying Less, Styling More
The key to fully embracing the quiet luxury trend is to buy less jewellery each season and instead, buy pieces that allow you to style them more. This means versatile picks that can be worn in multiple ways. 
Our brand-new Pop Charms collection is the perfect place to start when looking for customisable, versatile and wear-more-than-one-way jewellery. This modern-day charm edit is packed with perfect chains and huggie hoops with a range of ultra-chic charms which allows you to swap and change your jewellery looks without buying brand new every time. Simply slip the charms on or off the chains and hoops to create a whole new look.
Subtle Luxury
The most subtle and simple luxury jewellery is the perfect way to do the quiet luxury trend – but that doesn't mean you have to skip out on the real deal. Think 14kt gold stacking bands to create the most luxe ring stacks and 14kt gold super-sleek huggies as your go-to earring stack for every day. 
Diamonds for every day is one of our favourite mottos. Because why save them for best? In our 14kt Gold Collection, you'll find everyday diamond jewellery that quietly and discreetly promises to elevate your wardrobe with the perfect touch of real-diamond sparkle.
From opting for pieces you know you'll style in three different ways to sticking to staple jewellery that serves a nod to timeless style rather than this season's biggest trend, quiet luxury is an aesthetic we're totally on board with. Shop effortlessly chic pieces from the new Ania Haie collections and update your rotation with quietly luxurious jewellery that will transcend this season and next.
Collection 2019
Sale 70% Off
Third slide