How to Wear Pearls in A Modern Way
Posted by EMMA TAYLOR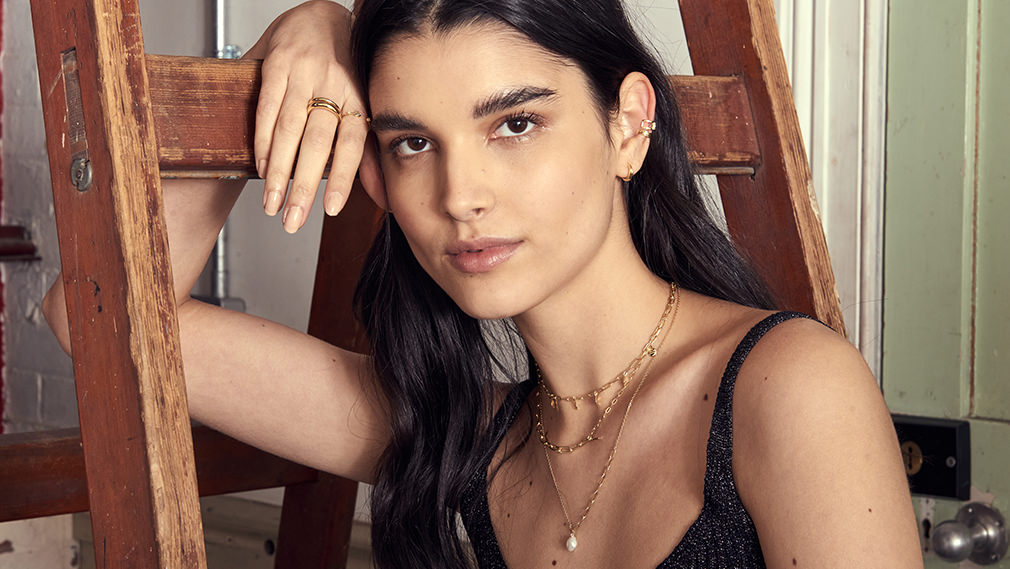 Pearls Have Got a Whole New Look
If there's one vintage-inspired trend we're obsessed with this season, it's the revival and total renewal of pearls.
Having a modern comeback that looks good any time of day, pearls are no longer for special occasions only. We're wearing them every day with anything from chic tailoring to classic denim.      
And this is how to style them.
Pearls… But Layered
When you think of classic pearls, you might think of a single string of pearls –Audrey Hepburn style. Or maybe a single pearl pendant droplet. This season, we're seeing them styled into on-trend layered looks, completely transforming the feel of this classic detail.
When combining pearls with this season's chunky chains, it's the perfect balance of chic and edgy.
Try the look in several ways. Layer a simple pearl necklace, like our Silver Pearl Necklace with super modern chunky chains – our Figaro Chain Necklace would work perfectly – for a layered look with a pearlescent difference.
Alternatively, you could opt for a piece that combines both trends. Our ultra-chic Pearl Chunky Necklace pairs up an asymmetric pearl pendent with multiple sizes of chunky gold chains. So simple, so effective. 
Add Pearls to Your Stack
Layers aren't just for necklaces. And with the return of pearls, our ring stacks are getting an update too. Add this detail instead of sparkle for a vintage-inspired twist on your stacks.  
A modern pearl ring looks super chic solo but it's also a statement way to create a unique stack. Our Pearl Twist Adjustable Ring is the perfect example of how to do this look just right. Use this piece as your statement or centrepiece and stack it with simple and sleek rings that ensure this is the piece in the spotlight.
Pair Pearl Earrings with a Contemporary Ear Cuff
Another way to style pearls for spring? Give pearl earrings a new look by pairing them with super modern and chunky ear cuffs.
A classic pearl earring with a modern twist, like our Pearl Mini Hoops, would style perfectly with our simple but textured and super modern Spike Ear Cuff. Completely transforming the overall look of the pearls, this is one of our favourite ways to create a unique earring stack this season.
If in Doubt, Make It a Hoop
Not sure how to ease your way into the pearl trend? You can NEVER go wrong with a classic pair of hoop earrings and our stunning Gold Pearl Hoops epitomise this trend. They're the perfectly unexpected balance of classic and modern for a sleek look that takes you from day to night.
Wear your hoops solo or as part of a stack, paired with simple mini huggie hoops and studs.
Are you ready to style up some pearls this season? If the spring season is making you crave a new look, this is a great place to start. Shop the Ania Haie Pearl of Wisdom collection for a seriously modern take on this classic jewellery detail.  
Collection 2019
Sale 70% Off
Third slide