How to Transform Your LBD with Layered Jewellery for your Christmas Party
Posted by EMMA TAYLOR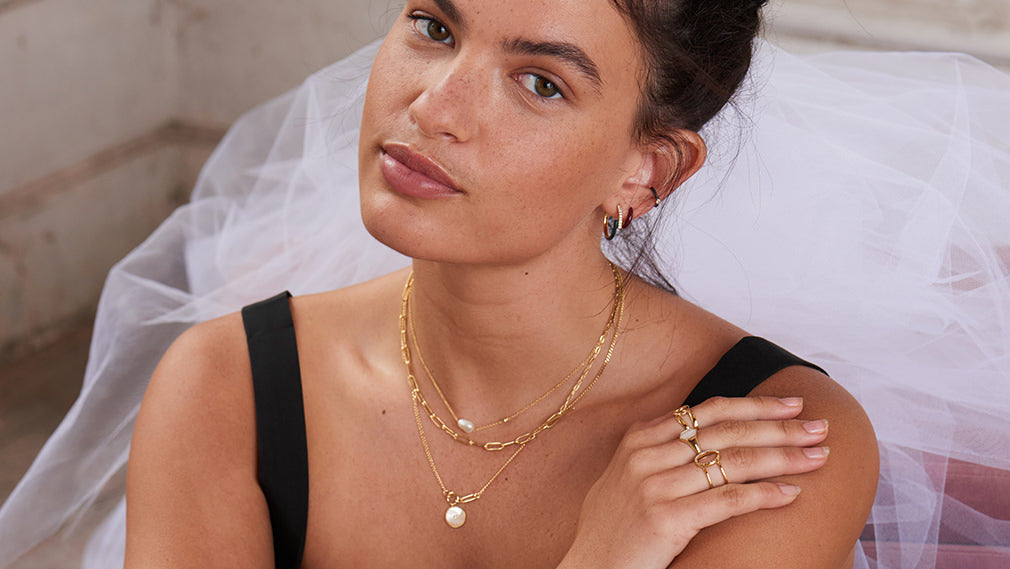 Dress Up Your Favourite LBD with Your Jewellery
A classic LBD is a wardrobe essential for every season. Whether you're dressing it up with heels and a blazer or keeping it casual with chunky boots and a leather jacket or oversized knit, the perfect LBD is the answer to every fashion conundrum. So, if you're thinking of pulling out your fave black dress for a Christmas party this year, think about transforming it with the perfect touch of layered jewellery. 
Adding sparkle, shine and a touch of colour could be the ideal way to get a whole new look from your best and most trusted LBD. Here are our top tips for making a simple dress Christmas party-ready.
Neckline Details with Layered Necklaces
Layered necklaces are one of the biggest jewellery looks of the year. So, if you want to add detail to a simple LBD neckline, it's all about going big when it comes to your chain selection.
Start your layered look with a short chain as the highest point on your stack. Then, go in with length, adding a medium length necklace and then even longer with one of our longer chains.
Purposefully choosing necklaces with different chain lengths allows the details on each design to shine – and avoids any tangles. 
Check out our necklace layering top tips blog for extra inspo!
Attend Your Own OTT Ear Party
Bring your own party to any festive event this season with an on-trend ear party. And because of the time of year, go extra.
Stack up your earrings for sparkle that doesn't interfere with your dress by going for big clusters of shimmer, like our Glow Bar Studs or choose celestial pieces, like our Midnight Star Huggies for an on-trend touch.
Add colour to your LBD with our new berry-hued Enamel huggie hoops and go OTT with any of our ear cuffs for maximum detail and sparkle.
For more style tips, see our blog all about how to create the ultimate ear party drama.
Stack Up Your Bracelets and Cuffs
Don't forget the chicness of a bracelet stack when it comes to adding detail to a simple look.
Why not try a mother of pearl emblem bracelet paired up with stacks of delicate chains for a super stylish vibe. Add a sleek and simple cuff for a minimal finish or try a chunky and on-trend chain cuff. Want sparkle? Make it our Midnight Cuff for the perfect touch of Christmas shine.
Loaded Ring Stacks Are Huge This Season
Bring all attention to your hands with the perfect loaded ring stack. And when we say loaded, we mean it. Try stacking multiple rings on one finger or spread them out with a ring for every finger – the perfect excuse to treat yourself to a few adjustable rings so you can mix and match.
Include this season's must-have, a signet ring in your stack and add chunky filler rings with added texture, like our essential Spike Adjustable Double ring.
Our statement ring stacks style blog is packed with extra tips on how to create your own unique look. 
No matter how simple your favourite LBD is, there's always a way to transform it to make it the perfect Christmas party dress. So, whether you're heading out with your friends for a festive catch-up or joining your work pals at the annual Xmas 'do, try out a new jewellery look with the dress that never lets you down – with a little help from the latest Ania Haie collections.
Collection 2019
Sale 70% Off
Third slide