How to Layer Necklaces with This Season's Trends
Posted by EMMA TAYLOR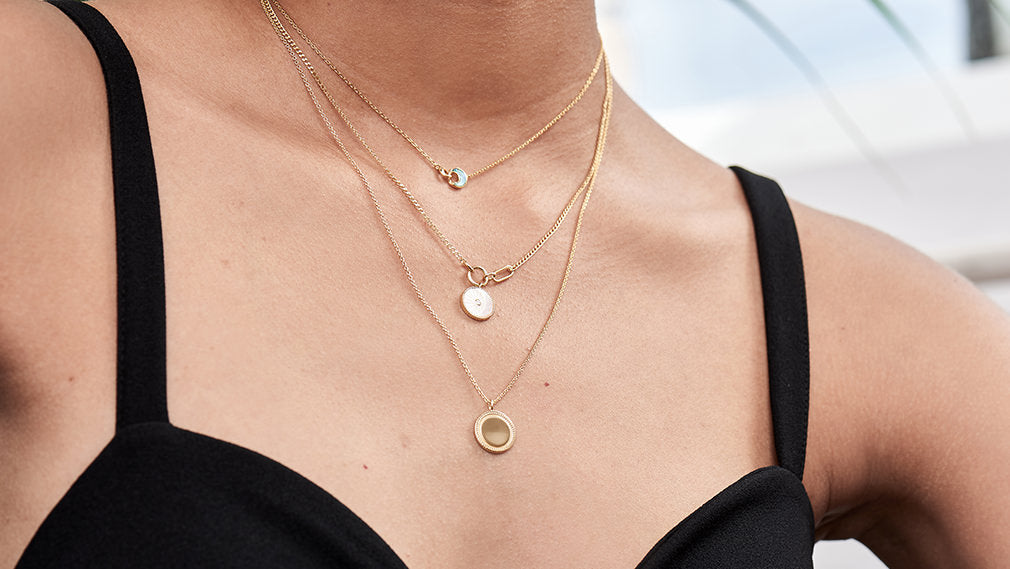 Incorporate Spring/Summer's Key Trends
If you know the Ania Haie vibe, you know we loved a layered necklace look. Whether you're mixing and matching, keeping things simple or stacking up chunky statement pieces, if you're layering, we're into it. And this summer, there are plenty of chic trends to inspire a whole new layered look. From bright flashes of colour to finding a perfectly unique stone this sits well with your style, adding a spring/summer trend to your stack is a great way to update your layers.
How do you like to layer necklaces? If you're looking for some extra inspo, remember to also check out our blog with our top styling tips on layering.
Pops of Statement Colour
The Spring/Summer runways were awash with bright pops of bold colour and we were so happy to see it. Brighten your mood by adding some flashes of your favourite hue this season and it doesn't just have to be your outfit – your jewellery can adapt for this trend too. 
Our Into The Blue collection is the perfect place to head for bright pops of turquoise blue – one of this season's biggest colour trends. Add a coloured pendant like our new Turquoise Drop Necklace into a layered look with a heavier chain for a statement look.
Chunky Chains to The Next Level
We're loving seeing the strong revival of chunky chains on the fashion scene and although they've been huge for a couple of seasons, they're not going anywhere any time soon. So, if you're yet to indulge in this look, 2022 has your name all over it.
Go heavy on the chain detailing by choosing pieces like our Horseshoe Link Necklace and Figaro Chain to double up on this trend.
Unique Gemstone Pendants
A special trend that we're obsessed with is the use of unusual and unique gemstones in jewellery for spring and summer. And there's certainly not a shortage of them in the latest Ania Haie ranges. From our Rising Star collection – featuring Kyoto Opals and mother of pearl – to our Turning Tides collection, packed with real abalone stones, we're all about the gemstones this season.
Pick and choose yours and don't be afraid to mix up your colours and choose more than one in your layered look.
Mix and Match Stacks with an Edge 
One of our favourite trends is the asymmetrical, totally-unique-to-you mix and match jewellery trend. The only way to truly create a unique look for your jewellery, mixing and matching is all about getting creative with your style and blending all your favourite pieces into one chic aesthetic.
This spring/summer, mix and match metals for added dimension, pair together different coloured stones and, most importantly, add textured pieces to create more detail in your necklace stacks. Choosing textured or twisted pieces is the perfect way to make an otherwise simple stack more you.  
Love to layer? Update your layered necklaces with the perfect hint of this season's trends for spring and summer 2022. Wear yours with anything from a simple graphic tee, leggings and trainers to a plunging date night slip dress and barely-there heels. However you're styling it, layering necklaces are the perfect way to elevate your look in any season and, as you well know, we love a statement look with a unique twist.
Shop necklaces this spring at Ania Haie and discover pendants, chokers, drop chains and so much more in all of our latest collections.
Collection 2019
Sale 70% Off
Third slide