How to Layer Necklaces
Posted by AUDREY COUDYSER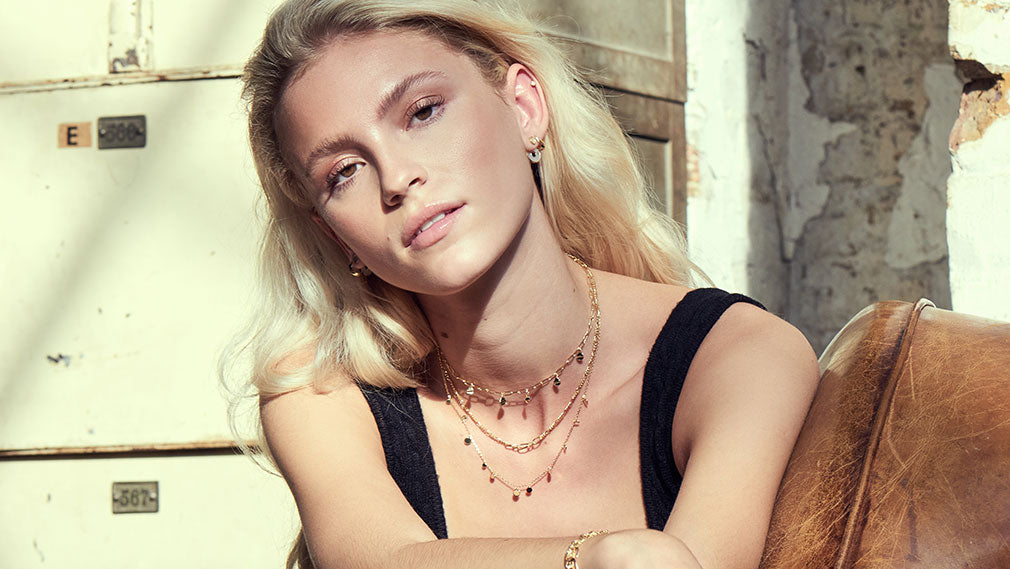 Layering is key for autumn/winter 2020
Stacks of layered necklaces are a key look for autumn and winter this year and one of our personal faves. Whether you're wearing it with a super sleek satin evening dress or your favourite chunky knitted sweater, layered necklaces give your look that polished, yet uniquely you finish.
But what's the secret to creating the perfect stack? As layering is the essence of our brand, follow our top 8 style tips for how to layer necklaces in style this season.
Choose Your Base
To create the perfect layered look, we'd recommend opting for either 3 or 4 necklaces. Less than 3 and you might not get the impact you're looking for. More than 4 and you're headed for tangle trouble if you're not careful with your choices. Start with a shorter chain or choker as your base piece and work on your other choices from there.
Play with Length
When you're selecting your choice of necklaces and chains to layer, play around with different lengths. If you can create layers with 1-2 inches of space between the lengths, you're much less likely to end up untangling mid-way through your day.
Plus, choosing different lengths allows each piece to shine in its own right.
Strike a Balance
As well as length, think about selecting necklaces of different weights and create a balance. Heavy and super light necklaces look chic paired together. Plus, a chunkier chain surrounded by more dainty options creates depth and dimension to your layers.
Mix Your Metals
Don't be afraid to mix silver and gold or even rose gold when you're layering your pieces. This season, the trend is all about creating a unique look that speaks to your style. So, play with different metals and create a collection of colour that you usually wouldn't put together.
Add a Pop of Colour
A great way to break up a layered necklace look is to inject some colour with a coloured stone or pearl necklace. Let your coloured necklace shine and pair it with a couple of simpler chains as the perfect combination.
Choose A Hero Piece
One way to start your stack is to select the hero piece in your layered look. This means a statement piece that you want to give centre of attention. Then, choose simple chains to add on to the look to complement the hero piece without taking away focus.
Make a Coin Your Key Piece
If you're not sure what should be a hero piece in your stack, opt for a chunky coin pendant as your starting point. Then add shorter chains and even chokers to complete the stack.
Keep It Simple 
If you're just getting started layering necklaces, try keeping it super simple and chic. Opt for all dainty and simple chains of different lengths. Here, you could go for more pieces to create a more densely layered look which still feels lightweight and feminine.
However you're styling your layered necklace look, get it right and avoid tangles with our top 8 styling tips. Shop our autumn/winter necklace collections now, packed with the perfect layer-ready options to create your own unique, personalised layered look.
Collection 2019
Sale 70% Off
Third slide