How to Give Your Jewellery a New Year Refresh
Posted by EMMA TAYLOR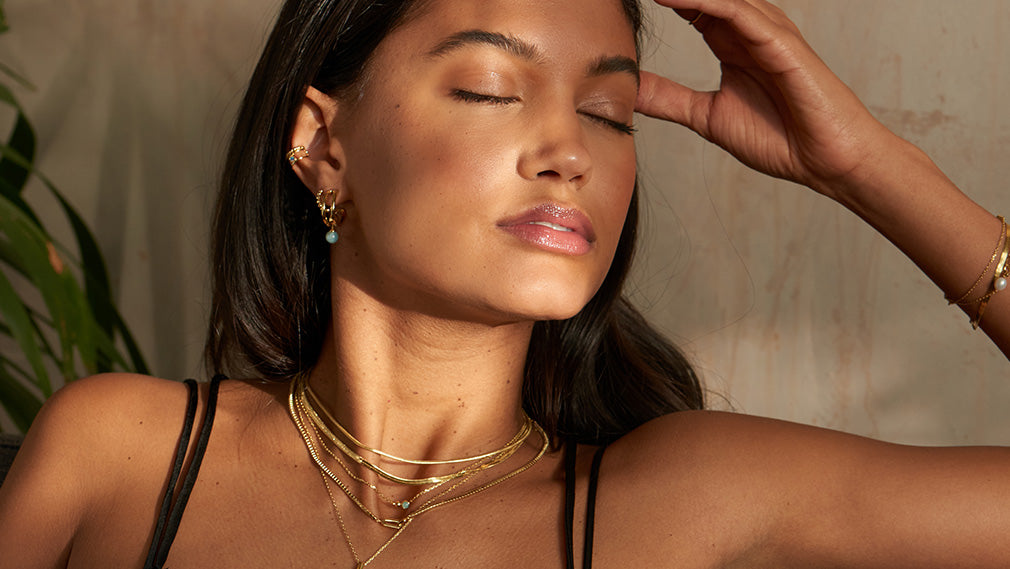 Make Your Jewellery Shine Like New Again
It's the start of a whole new year and what better way to begin than by organising? Going through your jewellery collection and discovering the pieces you may have neglected for a while and giving them new life is a fun way to reinvent your style without the investment. Plus, it's one of our favourite productive ways to spend our January Sundays. So, dive into your collection, refresh your pieces and get organised so that this year, you can really make the most of all your stunning jewellery.
And if you need a little update to your jewellery style, we've obviously got you covered with our brand new latest collections.
Cleaning Your Jewels
Once you've pulled out your jewellery collection and reintroduced yourself to any pieces you've not seen for a few months, it's time to give it all a clean. Just a simple and quick clean can give your jewels their sparkle back in no time and remind you why you chose them in the first place! 
The best thing you can invest in to bring your jewellery back to life is a non-abrasive jewellery cloth. This and this alone will revitalise your sterling silver and gold pieces and give them their original shine back. Get into all the nooks and crannies with this simple cloth and watch as the shine returns. If your jewellery needs a little more loving, create a very gentle wash with some warm water and gentle hand soap. Using a soft toothbrush gently work the solution into your pieces and then dry – finishing off with the non-abrasive cloth.
We'd always recommend leaving jewellery cleaner sprays and solutions out of the picture as these often contain harsh chemicals and abrasives that over time can cause more harm than good to your jewellery.
Storing your Jewellery
Once you've cleaned your jewellery, it's all about storing it properly. Getting organised with your jewellery storage makes it so much easier to find your pieces when you're getting ready. But it also makes it easier to keep all your jewellery in its best condition for longer. 
Make use of all your old jewellery pouches and gift boxes during this reorganisation and pack away your pieces as separately as possible. Keeping rings, hoops and pendants away from each other means you're far less likely to discover a dreaded scratch simply from an untidy jewellery box.
It's also best to keep jewellery stored away from direct sunlight. As pretty as a necklace holder might look on your dressing table or window ledge, if your chains are sat in the sun all day long, you'll risk them discolouring over time. 
To avoid the chance of oxidisation and tarnishing with sterling silver jewellery, the best thing you can do is keep them in sealed plastic bags. This reduces contact with air and slows down any gradual oxidation to the finish of your pieces.
When it comes to necklaces and chains, remember to fasten them up before storing. This helps decrease the chance of tangling and makes it easier to grab just the necklaces you're looking for when getting ready.
Tips for Caring for Jewellery
Last but not least, we thought we'd leave you with a couple of our top tips for caring for your jewellery to keep it at its best for as long as possible.
Even for the most luxurious jewellery, the more you can avoid extreme heat and water, the better it is for your jewels. And if you do wear your jewellery in these circumstances, treat it to a clean afterwards to keep it looking fresh.
The best thing you can do to keep your jewellery shining is to avoid any sort of chemicals or solutions. And by that, we mean anything you tend to put on your skin. So, spray your perfume and let it dry before adding your necklaces and bracelets and do the same with body lotions and moisturisers instead of applying afterwards.
Lastly, stick to your storage! We've talked a little about storing your jewellery. So, try your best to stick to your new organisation. Keeping your jewellery stored properly and separately will help avoid scratches and tangles and keep your pieces as box-fresh as possible for longer. 
Give your jewellery collection the New Year's refresh it deserves with our quick and easy tips. And if you're on the hunt for something new to add to your collection, the Spring/Summer Ania Haie collections are just around the corner.
Collection 2019
Sale 70% Off
Third slide