How To Create Statement Ring Stacks
Posted by EMMA TAYLOR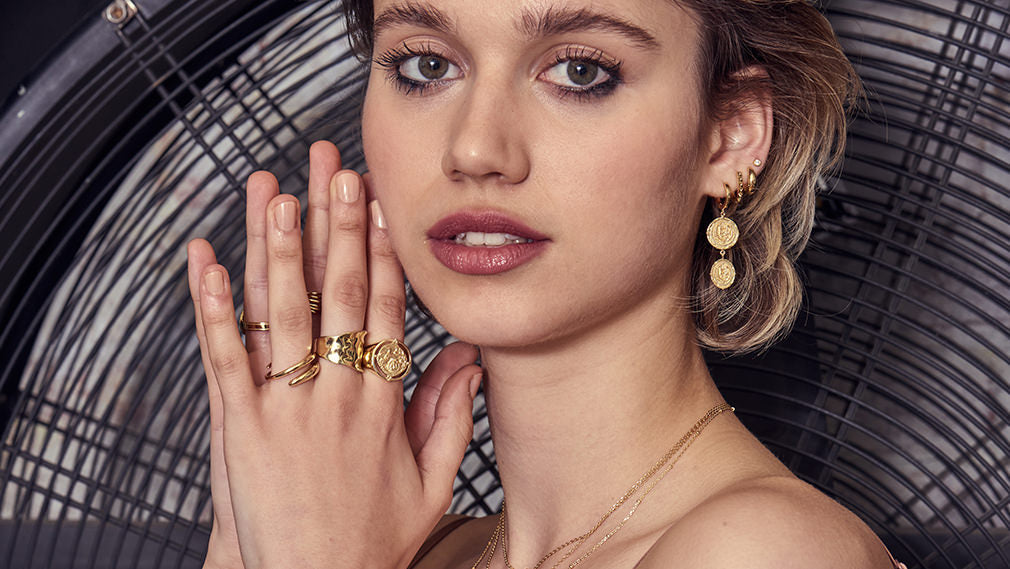 Stack Up Your Rings for Spring
When it comes to ring trends, it's all about stacking. One ring just isn't enough anymore. But building and creating the perfect Insta-worthy ring stack isn't as easy as just piling on your collection. Creating a look that feels polished and stylish while remaining unique requires a few extra styling tactics.
Here are ours.
It's All About Mix & Match
The most important thing to think about when creating the perfect ring stack is to mix and match when it comes to styles. This helps to break up your rings to allow each of them to shine individually and avoids your stack looking too uniform.
As well as mixing and matching metals (gold and silver look so good together, why not wear both?), try mixing and matching styles and sizes.  
Mix chunkier and bolder rings, like our Apollo Ring with daintier and more sleek styles, such as our Luxe Band Adjustable Ring.
Choose How You Make a Statement 
Creating a statement ring stack doesn't mean filling your fingers with every statement ring you can find. Choose how you want to make your own statement. One way is to wear a single statement ring on one finger surrounded by simpler styles.
Or, for a bolder look, add multiple statement rings to each hand, broken up by simple or 'spacer' rings, which are wider to create a break between detail.
Stick to A Sleek Stack
Sometimes, sleek and simple looks just as good as a statement look. And when you start to stack sleek rings, they really come into their own. For a sleek look with serious edge, stack up on every finger. This gives you plenty of space to get creative and experiment with your look.
A simple style ring with minimal detailing like our Glow Adjustable Ring is a great place to start. You can also incorporate double rings, such as our Modern Double Ring into a simple look to create space between your stack.
Keeping your look simple but with a touch of texture, you might also want to add detail with our  Wide Curb Chain Adjustable Ring.
Different Is Good
Lastly, difference and asymmetry are good when it comes to this trend. There's no need to try to match up each hand and create a mirrored or even stack. As long as you feel comfortable, mix it up on both hands and create a unique look for each one.
A key tactic to keep your look consistent even if each hand is very different? Maintain the same metals on both hands. If you mix metals, do it on both.
When you're getting started with ring stacking, start small. Sometimes, if you dive right in, your hands might just feel overwhelmed with jewellery. Gradually, you'll build confidence with your stacking and learn what works best for you.
The best thing about the stacking trend? You can change it up every day. Same rings, whole new look. Now, that's the kind of jewellery trend we love.
Collection 2019
Sale 70% Off
Third slide