How to Create Ear Party Drama
Posted by EMMA TAYLOR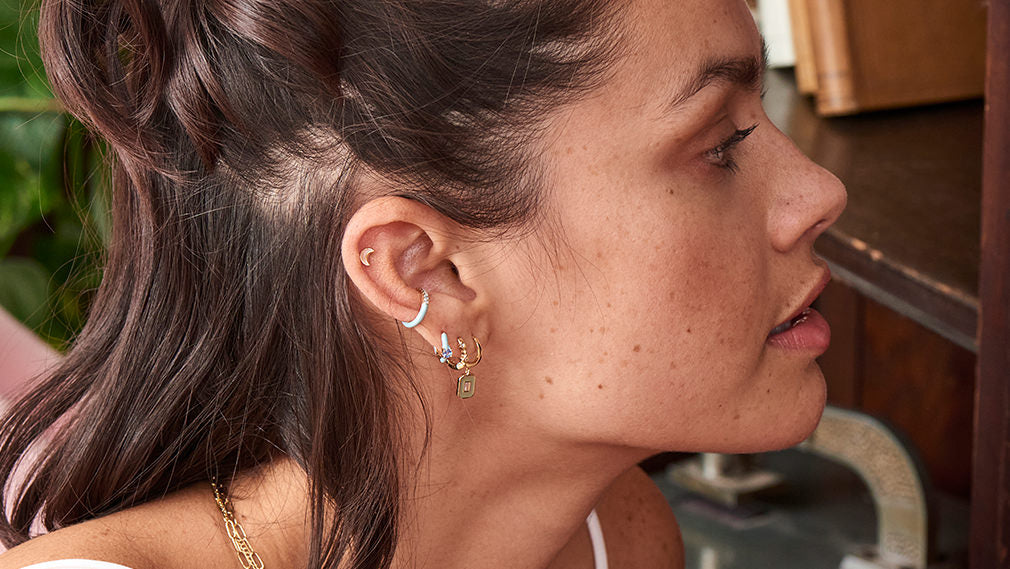 The More, the Merrier, This Season
If there's one thing we love about earrings, it's the fun you can have when it comes to styling. And this autumn, 'the more, the merrier' is definitely a fashion directive we can get on board with.
From statement illusion earrings to cuffs, huggies and drops, there's never been as much to play with when it comes to ear style. So, how can you create your own ear party this season? These are just some of our fave ways to play.
Practice Your Stacking
Stacking is number 1 when it comes to creating your ear party drama. And stacks mean experimenting. Start heavier at the lobe with a chunky hoop or drop earring and work your way up.
Huggies are your new BFF when starting to indulge in the stacking trend. They can be placed anywhere on the ear and add subtle texture and dimension to your look, pairing with studs, hoops and drops. Try our perfectly simple Gold Luxe Huggie Hoops to pair with literally any other piece. Or, opt for a chic drop huggie like our Sage Enamel Emblem Huggie Hoops for some added colour and detail.
Add A Statement Ear Cuff
Want to create the on-trend illusion of multiple piercings without the long-term commitment? Now you can – with ease. And it's all about ear cuffs.
Whether you go super simple or choose to add colour and sparkle or layers with a crawler ear cuff, this is the perfect way to create your statement ear party.
Play with Length
Get experimental when it comes to length and try adding in some drop earrings to your look. Perfect for spicing up a night look or adding drama and glam to a day vibe, anything from our short and sweet Gold Cable Link Earrings to our intricate Silver Bohemia Chain Stud Earrrings creates added dimension to your stack.
Add A Pop of Colour
Never thought about adding colour to an earring stack? Well this season, colour is making its own statement. Dive into our updated AW Bright Future collection for plenty of inspiration. Think greens, navy blues and pops of claret red as the perfect way to inject some seasonal colour to your look.
Mix & Match
As always, mix and match styling is one of our fave agendas. And when it comes to mixing and matching your earrings, the rule is – there are no rules! Make your look your own from start to finish.
Symmetry is a thing of the past. While you want to create weight balance – so you don't feel lop-sided! – don't worry about trying to make your ear stacks match up. Colour in one and not the other? No problem. Drop earring to complete the left while sticking to studs on the right? Sounds good to us!
Opt for serious drama this season when styling your ears. Make it sparkle, pop it with colour and experiment with size and texture for the perfect look this party season and beyond. Shop the Ania Haie earring collections for all the inspo in huggies, hoops, studs and drops and create a unique look that exudes party fun from the lobe up.
Collection 2019
Sale 70% Off
Third slide