How to Create a Statement Earring Stack
Posted by AUDREY COUDYSER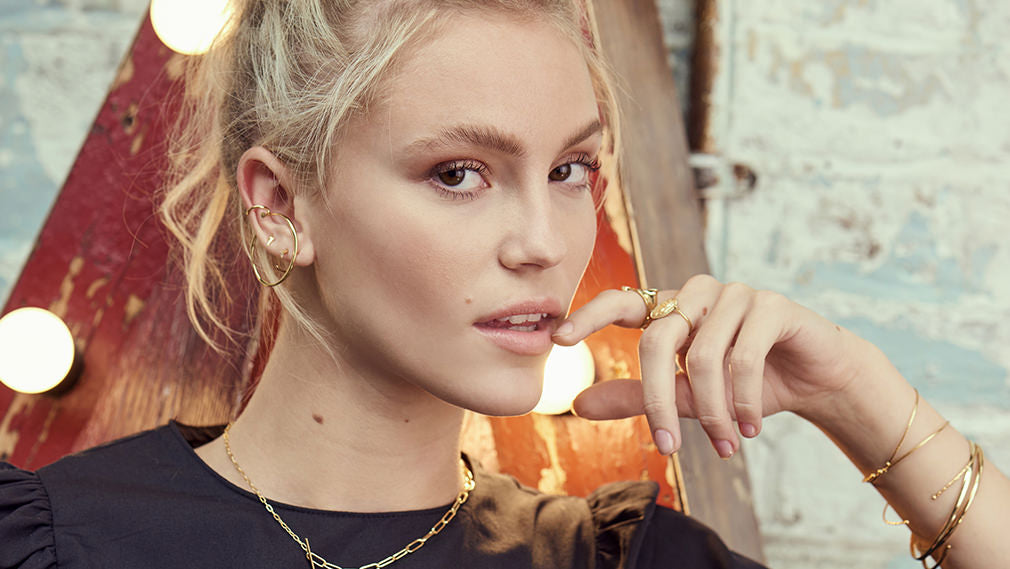 Get Stacking This Season
One of the biggest jewellery trends of 2020 and our favourite look this season is earring stacks. Abundance is everything when it comes to earrings now – the days of minimalism are long behind us. And we couldn't be happier about it!
With everything from oversized statement earrings to micro studs in the mix, the world is your oyster when creating your very own statement earring stack. So, in honour of this coveted look, here are our top tips on how to put together the perfect earring stack.
The Only Rule? Mix & Match
There really are no rules when it comes to this trend. However – if you'd like just one to follow, it's to mix and match. Get playful with textures, styles and metals. Mix them up and create a look that's truly unique to you. 
Pair a sleek and minimal earring right next to a textured or heavily detailed piece. See how they instantly work as a team.
Get Creative with Size
Playing with size is a great way to build a unique look. Rather than trying to find earrings that look or feel similar, mix it up with mini studs and big chunky hoops. Or try antique-inspired coin earrings next to tiny modern choices.
Build from the lobe, adding your larger pieces first and creating shape upwards on the ear.
Add Huggies To Your Collection
If you haven't added huggies to your jewellery collection yet, you'll want to when creating the perfect stack. Huggies are tiny like studs but wrap your ear like a hoop. Perfect for placing higher up the helix of the ear.
Ear Cuffs Are Your New Best Friend
We're not the only ones obsessed with ear cuffs. Not only do cuffs allow you to get super creative with a stack, but they're an amazing way to embrace the trend without committing to any extra piercings.
Inject Colour
Mixed metals are a huge trend for 2020. And it's a look that works perfectly when building up an earring stack. But it's not the only way to make your stack unique. Adding a splash of colour to your look is one of our favourite ways to incorporate detail and unique style as well as breaking up the metallic palette.
Opt for studs or huggie earrings with a touch of bright enamel. Something as simple as our Opal Colour Silver Stud Earrings or our Silver Turquoise Stud Earrings would be perfect.
No Symmetry Allowed
When you're creating a statement earring stack, forget coordination when it comes to each ear. Symmetry couldn't be less important for this trend. So, think of each ear independently. One might be stacked to the brim while the other is left minimal. Or, make them both statement in their own unique way.
A different look for each ear makes it all the more fun.
The only way to make a statement this season? It's all about the earring. Give earring stacking its moment and get creative with style, texture and colour, building a unique look that can be different every single time you get ready. Discover everything from studs to statement hoops in the Ania Haie new-season collections.
Collection 2019
Sale 70% Off
Third slide