Holiday Jewellery Guide
Posted by EMMA TAYLOR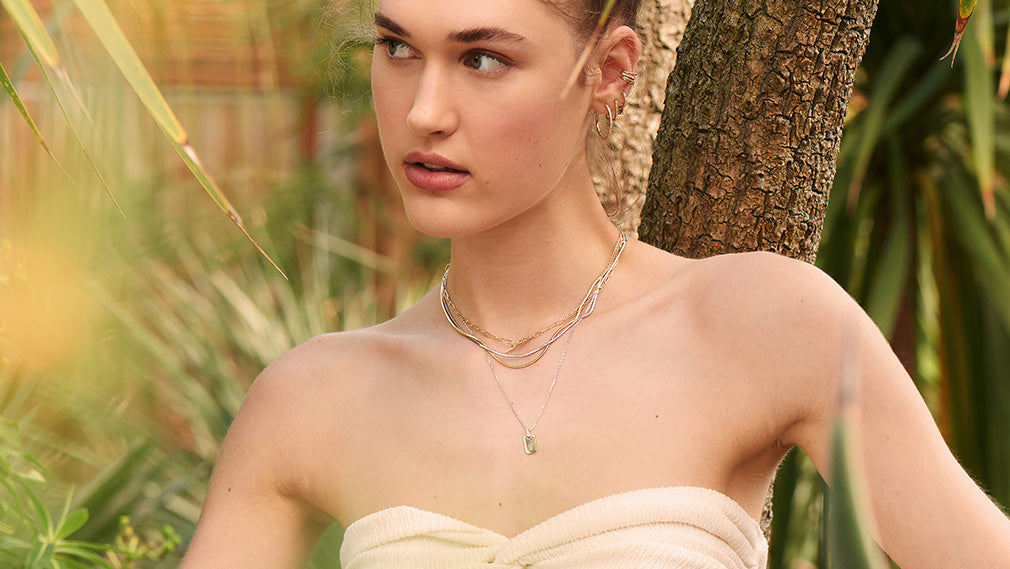 Choose the Perfect Summer Holiday Jewellery & How to Carry It
It's finally holiday season! And if you're planning your next trip away, you might be starting to think about what you're going to pack. And that will include your jewellery too. From our top holiday pieces to our best tips on how to pack and travel with jewellery, this is the place to make sure you've got everything you need and all your jewellery arrives in one piece!
Pack Light with Versatile Jewellery
Packing all your jewellery isn't usually an option when you've got lots of outfits to get in your suitcase too. So, we'd always recommend taking the most versatile pieces you have so that you can style them differently with a range of looks. Choosing beach to bar jewellery means you'll have perfect pieces to wear with your swimwear but switch up the styling and you can also wear them in the evening with your best dresses. We've also made a blog all about versatile jewellery if you need a little help choosing!
Colour is amazing for holiday jewellery so why not opt for enamel pieces that you can wear both ways? Look to our Bright Future and Neon Nights collections and find huggies and pendants that you can style with or without the colour showing – true versatility!
We're big fans of stacking rings always, but especially when packing light. Head to our stacking rings collection and choose several rings that you can wear in all different ways. Less for the day and stack them up a night for a dressier look.
Choose A Few Statement Pieces
Once you've chosen your most versatile pieces, then add a couple of bold statement pieces of jewellery to your luggage to make your outfits pop. 
Statement earrings are perfect for this. Try our on-trend chunky chain hoops or add colour with our stunning abalone stone drop hoops.
How to Pack Your Jewellery for Holidays
Once you've chosen the jewellery you want to take with you, it's all about packing it properly. You want to, of course, make sure you don't lose anything precious. But you also want to protect it while on the move and make sure any bracelet or necklace chains stay untangled. Is there anything worse than arriving at your destination to a knot of necklaces that take days to untangle? Here's what we recommend.
Use Your Old Gift Boxes
If you tend to keep and store away the gift boxes that your jewellery arrives in, here's the time to make use of them! Store your earrings and rings in a little gift box that you can safely secure to ensure you don't lose anything. And add a couple of balls of cotton wool to the box before closing to reduce the chance of your jewellery rattling around and getting scratched.
Ever Thought About Using a Straw for Jewellery?
Hear us out, because this is a great hack. Rather than simply slipping your necklaces into a pouch and hoping for the best, try this. Open up your chain, slip a simple drinking straw onto the chain and re-fasten. Seems odd, but this is a great way to keep your chains in order and straight rather than left to freely tangle with one another. You can then lay your straight chains next to each other on a sarong or silk scarf and gently roll into a slim tube and slip into the side of your suitcase. Easy!
Keeping Your Jewellery in Great Condition on Holiday 
You always need to look after your jewellery but on holiday it's even more important. With exposure to things like sun, heat, water and sun cream, you need to care for your precious pieces even more. Take a look at our jewellery care guide to get some extra tips to keep your jewellery looking box-fresh. 
If you're about to head off on your travels, make sure your jewellery comes along intact and secure with our quick and simple travelling hacks. Not sure what to take? Head to our summer wardrobe essentials blog to see our top summer jewellery pieces for this season. 
Collection 2019
Sale 70% Off
Third slide