Get to Know Our Gemstones
Posted by EMMA TAYLOR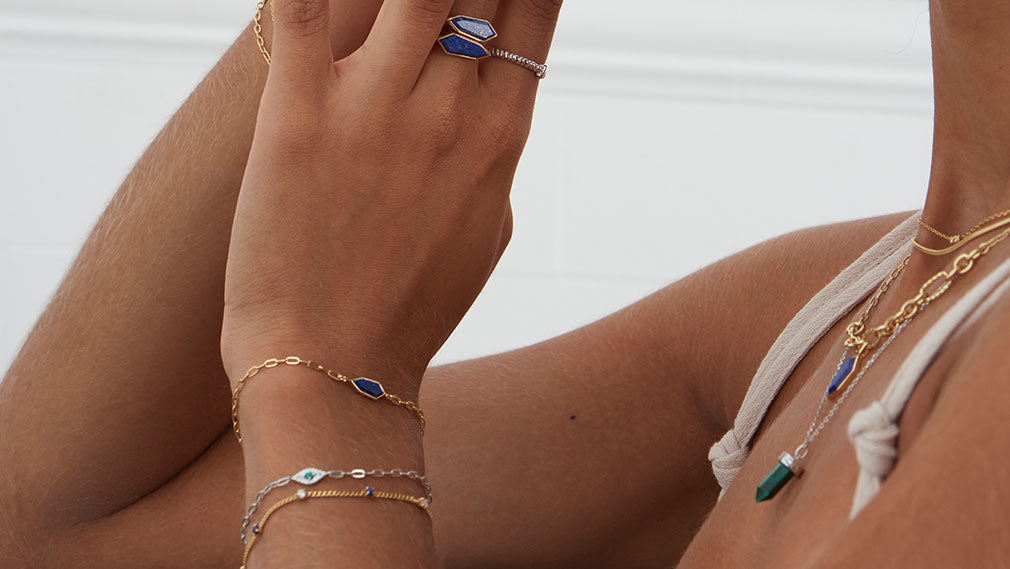 The Meaning Behind Our Beloved Stones
While statement gemstones are a huge trend for the upcoming season, at Ania Haie we don't just design them into our jewellery for the look. It's the meaning behind our gemstones that gives each piece something truly special. From the dramatic hues of lapis and malachite stones to the beautiful iridescence of freshwater pearls, you'll find a versatile range of stones in our collections which means finding the perfect one for your style is easy. Whether you prefer gemstones with healing and calming properties or stones that take you back to a beloved place or memory, discover the Ania Haie gemstones in our latest jewellery collections.
Freshwater Pearls
Timeless pearls have seen a revival recently and we couldn't be happier. This type of pearl is unique in shape and its natural iridescence gives it the perfect shimmer for statement, yet understated jewellery that never goes out of style. Pearls are known to symbolise wisdom, allowing the wearer to tap into their inner intuition and evolve with strength and peace. They also happen to be undeniably beautiful.
If you're thinking about adding some freshwater pearls to your jewellery rotation, head to our Pearls of Wisdomcollection and you'll find stunning baroque pearl pendants, hoops, drop earrings and statement rings.
Lapis and Malachite
This season, we've got creative with colour and discovered a love of the beautiful lapis and malachite gemstones. Lapis is a striking deep blue stone that represents strength and courage while holding healing properties and cleansing the third eye chakra. With its eye-catching rich green hue, malachite is known to help balance moods and encourages the wearer to be bold and take risks – while offering the perfect touch of this season's green trend.
If you're craving some colour with your choice of gemstone this season, dive into our Second Nature collection and discover statement lapis and malachite jewellery that will elevate any look.
Labradorite
The labradorite stone is a uniquely beautiful gemstone that reflects the light in a subtle and lustrous way, offering shimmer without the sparkle. A powerful protection stone, labradorite is known to represent energy, helping the wearer to grow with inner strength, shielding them from outside negativity.
The Midnight Fever collection is your go-to if you think labradorite is the stone for your collection. Browse the edit for pops of labradorite in stunning celestial jewellery, including pendants, dainty earrings and elevated rings.
Mother of Pearl 
A beautiful alternative to a classic pearl, we adore designing with mother of pearl in mind. This soothing and protective stone attracts love, positivity and prosperity, exuding a timeless style with its naturally iridescent and textured finish.
Our love of mother of pearl shines through in our Hidden Gem and Wild Soul collections. Here you'll find some of our most unique pieces, with celestial and emblem elements that pair with the shimmering mother of pearl stones to perfection.
Abalone
One of our favourite gemstones to use within our designs is the stunning and unique abalone stone. A vivid swirl of purples, blues and greens, the abalone stone is effortlessly chic and timeless, adding a pop of incredible colour to your look with just one statement piece. Bringing with it luck and prosperity, abalone has a gentle vibration, which is often used to help calm moods and tensions within the mind and body.
If abalone appeals to your senses, head straight over to our Turning Tides collection, where you'll find striking abalone jewellery, featuring pendant necklaces, statement earrings and the perfect stacking rings for a truly unique ring stack this season. 
Indulge in gemstone jewellery this season and add a special piece to your everyday looks. From classic pearls and head-turning abalone to stunning labradorite, shop the latest Ania Haie collections to discover the perfect way to incorporate this trend into your style.
Collection 2019
Sale 70% Off
Third slide