Evil Eye Jewellery
Posted by EMMA TAYLOR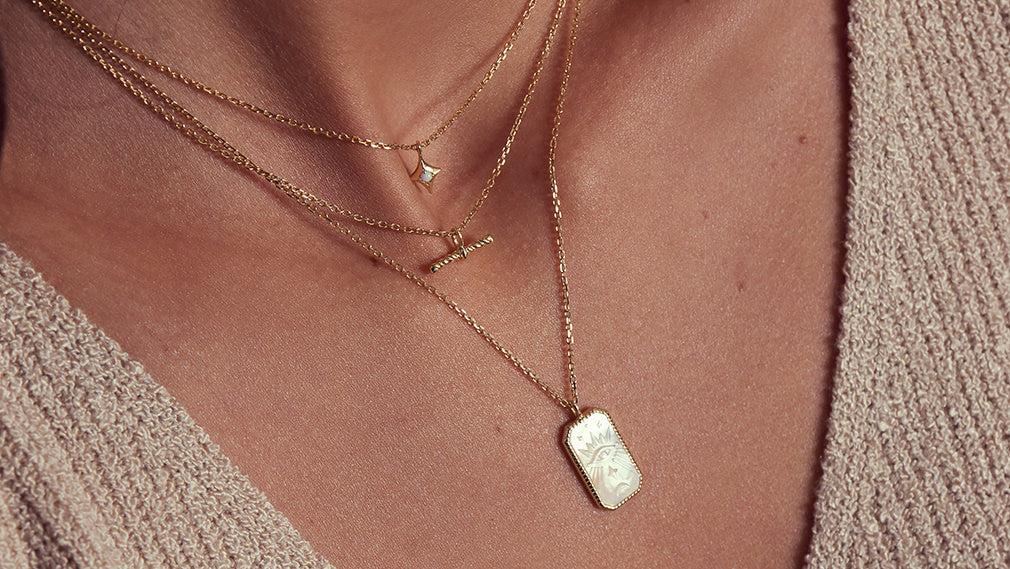 Guard Against the Evil Eye with On-Trend Talisman Jewellery
It's all about evil eye jewellery right now. This symbolic and beautiful talisman style jewellery makes the perfect choice for yourself or as a gift and has become increasingly popular of late. And that makes us particularly excited – as it happens to be one of our favourite details. 
Our Wild Soul collection is the place to head for evil eye jewellery. From studs to chic evil eye necklaces, this collection takes this ancient emblem and makes it super contemporary – and more luxe than ever. Crafted with mother of pearl and sparkling cubic zirconia accents, this is no ordinary evil eye jewellery. We've taken it to the next level.
Why Do People Wear Evil Eye Jewellery?
Spiritually protective jewellery has been worn for hundreds of generations. And one of the most popular and well-known? The Evil Eye. Passed down from Greek mythology, evil eye jewellery is said to protect its wearer from ill-wished curses, powers or even stares that might come their way. Protective over everything from negative thoughts and energy and even bad luck, people wear evil eye jewellery as a guard and symbol of their safety.
Evil Eye Jewellery – Wild Soul Collection
Does evil eye jewellery sound like something your collection is missing? Wait no longer. Our Wild Soul collection is packed with super chic options and designs for both statement looks and luxury-inspired subtle pieces.
Classic Evil Eye Necklace
A classic evil eye necklace might be your first point of call. And there's nothing gimmicky about our eye-catching gold plated Evil Eye Necklace. With mother of pearl and a cubic zirconia finish, this is the 2022 way to do this look. 
Don't forget our matching Evil Eye bracelet to complete yours.  
Everyday Evil Eye Studs
You can always add a taster of the evil eye jewellery trend to your look with some simple but stunning everyday studs. Incorporate our Evil Eye Stud Earrings into your ear stacks for a touch of protection and a truly unique stacked look.
Luxury Evil Eye Jewellery
If you're after the evil eye symbolism but craving a super luxe take on the look, we crafted the perfect pieces for you.
A stunning statement pendant, our Evil Eye Gold Pendant Necklace is made with a beautifully embossed contemporary plaque of mother of pearl set on an effortlessly cool and delicate gold chain. Perfect to wear as-is or even layered, this piece takes your everyday protection from negative energy to a whole other level. 
Designed with a similar aesthetic, our stunning Evil Eye Emblem Ring balances this season's on-trend signet ring styling with the evil eye detail to finish. Again, an intricately embossed plaque of mother of pearl is set onto a chunky gold signet ring for the ultimate luxe twist on talisman jewellery. 
Why not team up your everyday accessories with protection from evil spirits and negative energy? Evil eye jewellery and talisman-inspired emblems are the perfect way to do it. And at Ania Haie, we've obviously designed our collection to make the look as chic and luxe as possible. Head to the Wild Soul collection to shop evil eye necklaces, earrings, bracelets and rings.
Collection 2019
Sale 70% Off
Third slide