Choosing the Perfect Wedding Jewellery
Posted by EMMA TAYLOR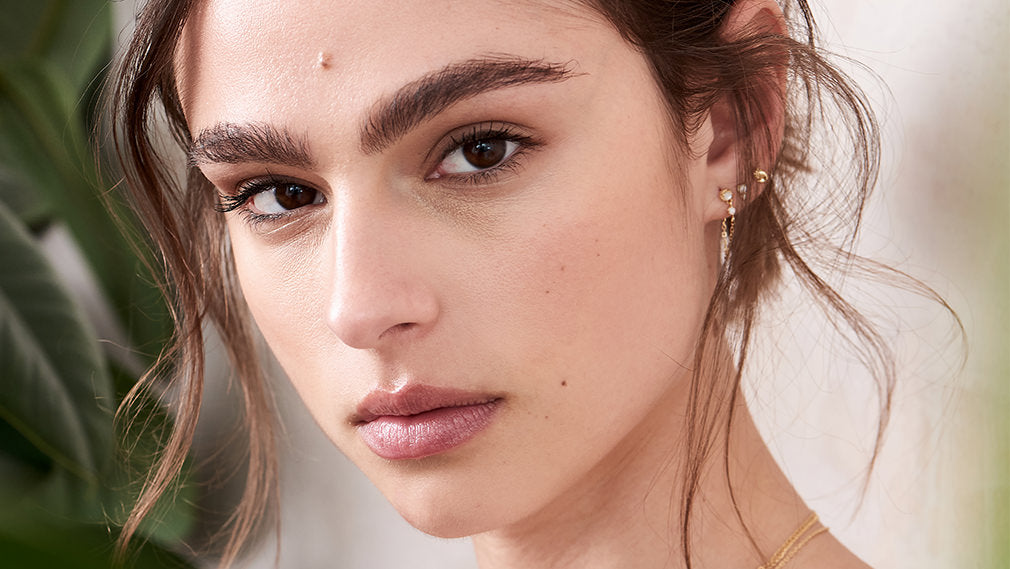 Find a Wedding Jewellery Set for Bridal Vibes
If you're on the hunt for wedding jewellery, congratulations! You're about to be a bride! It's an exciting time – but there's a lot to do. Right? So, we thought we'd help out when it comes to the search for finding the perfect wedding jewellery set for bridal vibes with a modern edge. And we think we've found just the right pieces to style up your bridal look with a touch of contemporary luxury. And every piece is available in our current collection.
Whether you're wearing simple silky satin or all the frills, full veil and detailing, the perfect wedding jewellery will finish your look. So, it needs to feel just right. Here's how we'd be styling our bridal looks if it was us!
Diamonds Are a Bride's Best Friend
You can never go wrong with diamonds on your wedding day. But modern diamonds with a minimal and super chic edge are the kind of diamonds we'd be looking for. How about you? Our 14kt Gold Collection ticks every box.
Our super simple Single Natural Diamond necklace is the perfect way to start when creating your own wedding jewellery set. Pair it with the matching Single Natural Diamond bracelet and finish with coordinating Natural Diamond Stud Earrings. The ultimate in bridal minimalism.
For modern diamonds with a little more detail, we'd be opting for the super delicate Sunburst Natural Diamond necklace – the perfect touch of celestial detailing for a slightly spiritual choice.
Classic Pearls with a Contemporary Twist 
Wearing pearls on your wedding day doesn't have to feel outdated. In fact, modern pearls with an unusual twist are one of our favourite ways to add some depth, texture and sumptuous iridescence to a final bridal look. So, forget the idea of an old string of pearls and embrace natural pearl accents with a contemporary edge.
Head straight to our Pearl of Wisdom collection. Pairing up sparkle with a totally unique shape pearl detail, our Gold Pearl Necklace balances your femininity with an edgier style. Team it with super chic coordinating pearl Threader Earrings. If your wedding dress is plunging, why not add some pearlescent drama with our striking Pearl Y Necklace?
Accent Your Gown with Iridescent Mother of Pearl
Craving modern bridal jewellery with a difference, why not choose mother of pearl detailing? This stunning iridescent accent oozes femininity and luxury but with an on-trend twist that shows off your own style. Creating a unique bridal look that speaks with your voice. And our Wild Soul collection is packed with ideas.
For total uniqueness, try our Evil Eye Gold Pendant Necklace. A stunning shape on a beautifully delicate chain, it promises to guard you from negativity for your special day. Want something chunkier and on-trend? Opt for our Compass Emblem Necklace with matching bracelet, complete with stunning embossed mother of pearl.
Choosing for Your Bridesmaids 
You might also be thinking about the type of jewellery that you want your bridesmaids to wear for the big day. Subtle, modern and luxurious is the name of the game when it comes to the perfect bridesmaid jewellery. Here's what we'd have our besties wearing. Each piece also acts as the perfect bridesmaid gift. Your way of letting them know how much they mean to you and a special thank you for being there on your big day.
Some subtle sparkle at the ear will never lead you astray. So, how about our beautiful Sparkle Kyoto Opal Drop Huggie Hoops? For sleek simplicity with meaning, try our stunning Knot Pendant. A simple aesthetic that represents eternity and love, it's the perfect wedding jewellery look for all of your bridesmaids.
Whether you're all about the real diamonds for your wedding day or you're on the hunt for something totally unique and different, this season's Ania Haie collection is oozing with bridal jewellery to elevate your final wedding look. Opt for contemporary chicness with a luxe twist that doesn't take up your entire wedding budget, right here.
Collection 2019
Sale 70% Off
Third slide