Choose Colour for Spring
Posted by EMMA TAYLOR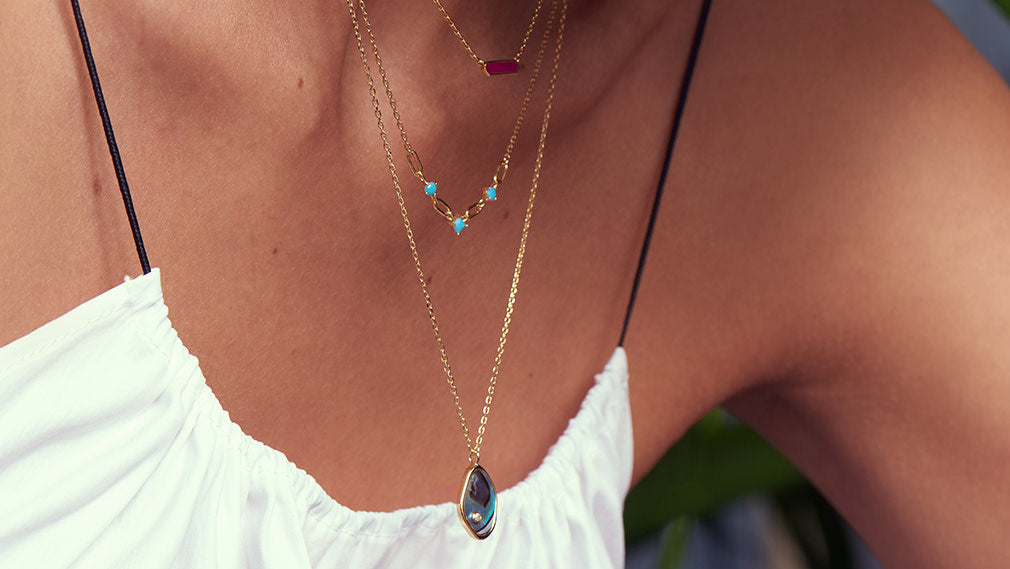 How to Introduce Colour to Your Jewellery Collection
Pops of bold colour are a staple when it comes to spring but this season, it's a bigger hit than ever. The designer runway saw more than its fair share of colour flashes. From bright neon or pops of yellow to smooth slices of primary red, blue and lots of green. It's all about adding colour to your look for spring. Our favourite way to do it? With statement coloured jewellery, of course.
Not sure how to introduce some colour to your collection? This is how we're styling it this season.
Elevate with Enamel Jewellery
Wasn't sure if coloured jewellery could be elevated and feel expensive? A chic way to achieve this aesthetic is to go with coloured enamel jewellery pieces. From the perfect everyday huggie hoop to an elegant pendant, enamel details serve up elevated vibes with an on-trend, colourful twist.
We introduced the Bright Future collection last year with our first enamel pieces and added Bright Future AW in autumn with even more colour choice.
Why not try simple enamel studs to get started with our Enamel Disc Studs? Or a chic pair of wear-with-everything huggies with our on-trend Enamel Huggie Hoops. Fancy a chain? Choose a pop of colour necklace with either our classic Enamel Emblem bar necklace or an on-trend link design.
Add Gemstones for a Pop of On-Trend Colour
A subtle way to add colour with a luxury twist is to choose vibrant coloured gemstones. A key look in our Into The Blue collection. Turquoise is one of the hottest colours for this summer, so why not choose turquoise-colour stones to represent this trend in your wardrobe?
A subtly and super neutral colour injection comes from the Kyoto opals in our Rising Star collection, another newbie for this season. And our Turning Tides line is packed with pops of purples, blues and greens from abalone and turquoise-colour gemstone accents. Heaven.
Layer Your Coloured Pieces
As always for us, layering is at the top of the agenda this season. We just hate to leave any of our necklaces out, how about you?
Try diving into the coloured look by layering more than one hue to show off your elite trend knowledge for spring.
Style Colour into Your Stacks
Another of our fave ways to introduce some colour to your looks is to add it subtly into your stacks. From ear and bracelet stacks to layered necklaces, we're all wearing multiple pieces these days, especially when it comes to earrings. So, why not make your stack that bit more unique with some colour?
Opt for earrings with colour with our on-trend enamel and cubic zirconia studs. The perfect balance of colour and sparkle. Or choose unique turquoise studs for the boldest hue this season. Our Enamel Emblem Hoops offer a chic huggie with a coloured drop while our statement coloured hoops mean you can go all out with your runway-inspired coloured look. 
Did we give you some ideas for introducing colour to your look this spring? If you're in need of more inspo, head straight to our latest spring/summer collections where you'll find plenty of it. With chic everyday jewellery with a luxe twist, shop now at Ania Haie. And don't forget to check out our brand-new 14kt Gold Collection if you're on the hunt for something truly special.
Collection 2019
Sale 70% Off
Third slide