Bright Future Collection Launch
Posted by EMMA TAYLOR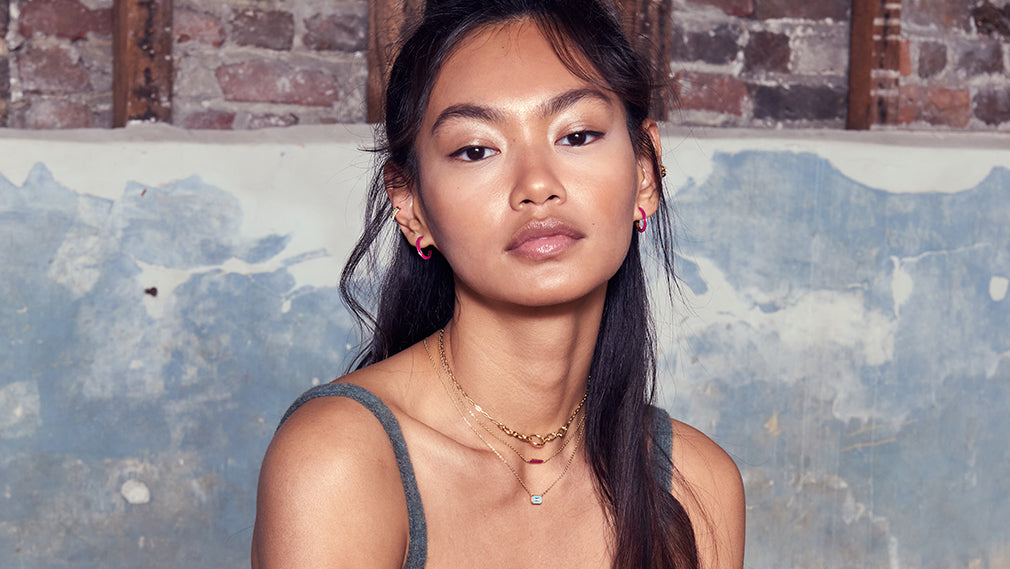 Our First-Ever Full Colour Enamel Collection
Every single season, we look forward to launching our new collections. But this spring/summer, something just feels even more exciting.
For the first time ever, we've created a full enamel collection. And you know what that means? Colour.
Launching in April, this stunning new-look collection of contemporary jewellery is all about allowing ourselves to be excited for the future - after a wild year for just about everyone on the planet.
Following on from our Turning Tides collection last season – which featured beautiful turquoise and abalone accented pieces – this collection is bursting with enamel colour and we can't wait for you to see it!
Inspired by The Runway and YOU
Our inspiration for a new collection often comes from the runways at Fashion Week. Keeping your jewellery collection up-to-date and on-trend, we pull from our favourite looks and aesthetics on the catwalks to bring you easy, affordable and on-trend options. 
And this season is no different. On the spring/summer '21 runways, colour burst through for the 'joyful glam' trend. Boldness and over-the-top statement pieces were top of the agenda and we loved translating that into pieces of modern jewellery you can wear every day.
But our inspiration didn't stop there. The last year has been just about as unprecedented and unpredictable as it can get. With the Covid-19 pandemic, people now want positivity as we gain increasing hope for a way out and a new lease of freedom and fun after lockdown.
With a need for positivity, brightness and fun, we wanted to add a touch of that into your jewellery collections for spring/summer.
What to Expect?
The Bright Future collection is bursting with vibrancy. We got creative with new colours that we've never incorporated before. So, get ready for stunning shades of teal, berry, powder blue, sage green as well as effervescent optic white.
Want to boost your wardrobe with some colourful jewellery that still looks chic and minimal? This is your collection.
The goal? Uplift your mood with brand-new, different styles and plenty of choice. We also made sure to design with versatility in mind. All the pieces in the Bright Future collection are designed to transition through the spring and summer and well into next winter.
Key Pieces
While we love every piece in this collection, we just know there are a few winners that promise to be snapped up early.
As always, we created the collection in 925 sterling silver and 14k yellow gold plating finished with our exclusive coloured enamel coating.
Key pieces in the line include the perfect huggie hoop earrings as well as the most stackable ear cuffs – all designed with a colourful difference. These are no ordinary earring stacks. Get ready to be creative.
We've included plenty of stacking ring options – which also style perfectly with anything from our other collections.
Fancy the perfect everyday necklace with a colourful twist? We've got you covered. 
Keen on colour for spring? Don't miss the launch of the Bright Future collection this April on AniaHaie.com.
Collection 2019
Sale 70% Off
Third slide