Back to Basics: Jewellery Staples
Posted by EMMA TAYLOR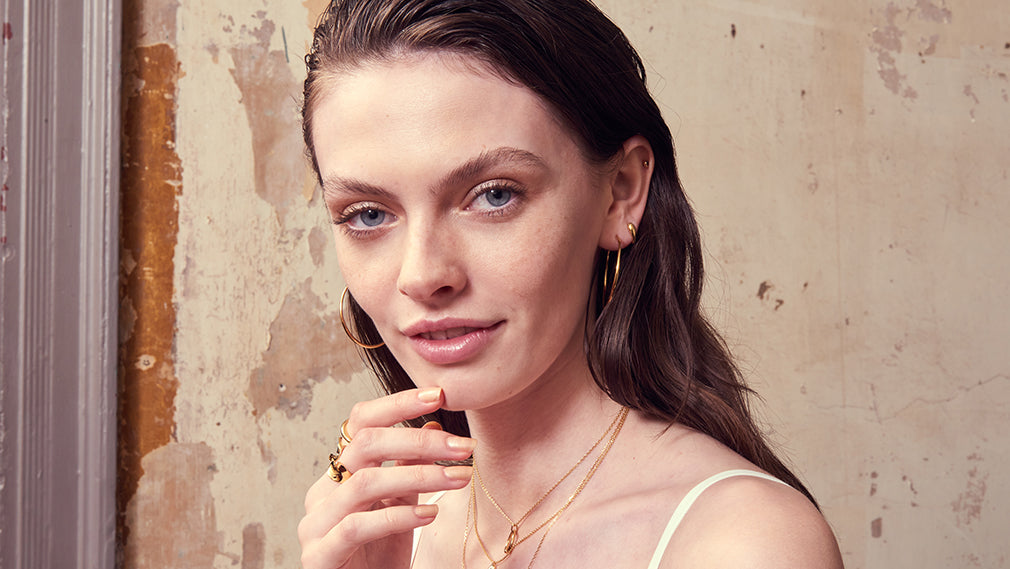 The Jewellery Every Collection Needs
Whether you're just getting started with your jewellery collection or you're in the mood for an accessories wardrobe revamp, it's all about starting with the staples. And making sure they're perfect.
When we talk about jewellery staples, we're talking about the foundations that make up a strong jewellery collection. These pieces are versatile and easy to restyle in different ways. They're the basics of your collection, if you will.
Every jewellery staple can be worn solo for any event and with any look. But they can also interchange and layer together without too much thought or styling needed.
These are the key pieces that, we believe, everyone needs in their jewellery collection.  
The Perfect Big Hoops 
For us, a pair of big hoops are high on the agenda when it comes to jewellery staples. Whatever your style – whether you love to dress up every day or you keep things simple and casual - throwing on a pair of hoops just completes a look like nothing else. 
But what makes the perfect pair of hoops? For us, when it comes to staple hoops, it's all about opting for a larger size and a simple design.
Our super-sleek Luxe Hoops Earrings nail the aesthetic or if you're into a little more texture and detail, try our Flat Beaded Hoop Earrings. 
Hoops style with anything from loungewear to sharp tailoring or eveningwear. So, you're going to want to get them just right for your style.
Huggies For Everyday 
Whether your style is simple or you're a fan of a fully-stocked earring stack, you'll need a pair of huggies for everyday. These should be simple and modern and super easy to style with the rest of your collection.
For the perfect chunky simple huggies, try our Single Spike Huggie Hoop Earrings or if a little sparkle is more your style, keep it subtle and chic with our Glow Huggie Hoops.
These styles are the kind of earrings that you'll never need to take off but you'll find yourself switching them around as they become the staples of any stack you create.
Necklaces That Layer with Everything 
Finding necklaces that layer with everything and still stand alone is key for your staple chains. You should be looking for simplicity with a style that still reflects your personal aesthetic.
Think on-trend but versatile chains like our Heavy Spike Necklace in gold or our Figaro Chain Necklace in silver. Or, opt for a minimal pendant like our Luxe Circle Necklace for a touch of detail that would layer up to perfection. 
Another of our favourites for layering are coin or medallion necklaces. You could style our Axum Necklace with anything from a tee and leggings to a chic full-length dress and it would sit perfectly. Then, layer with a couple of delicate chains for this season's stacked vibe.
Staple Ring Bands 
When it comes to your hands, staple rings are the simple bands that serve up the perfect foundation for a unique stack.
For the perfect smooth and sleek band ring, try our Luxe Band Adjustable Ring or double up with our Luxe Twist Adjustable Ring for something a little 'extra'. A crushed metal band ring adds texture to any stack but still looks perfect solo - our Crush Adjustable Ring works wonders for adding depth.  
Get your jewellery staples right and they'll keep you stylish season after season. Start with the foundations of your collection to gradually build a jewellery wardrobe that you'll be wearing and enjoying for years to come.
Collection 2019
Sale 70% Off
Third slide