14kt Gold New Collection Launch – Stargazer Collection
Posted by EMMA TAYLOR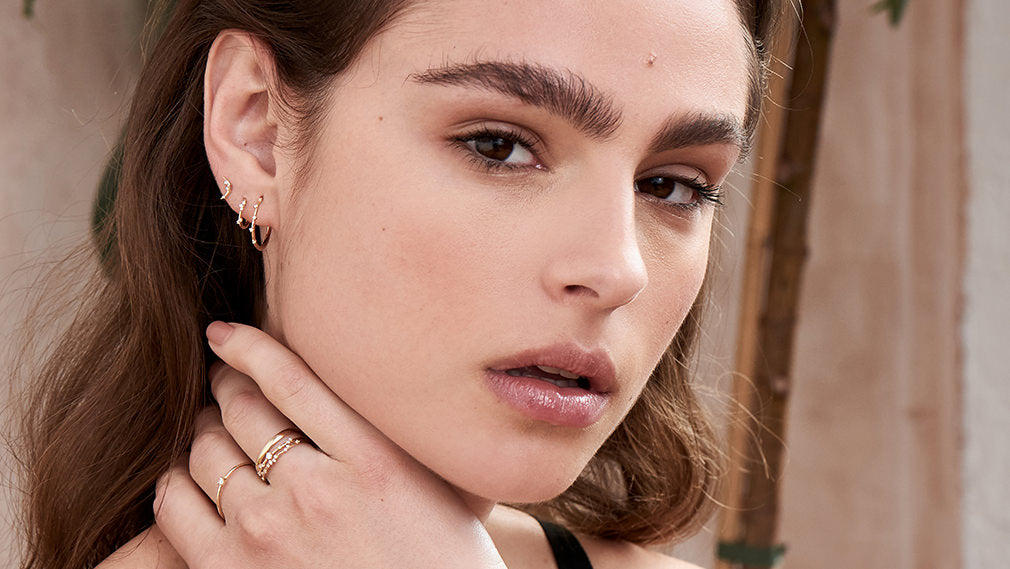 Discover a Celestial Addition to Our Solid Gold Range
This season, we're making a spectacular addition to our 14kt Gold Collection. And it's not one you want to miss. Introducing, the Stargazer collection. 
A purposefully compact line of celestial inspired jewellery, the Stargazer edit is part of our luxury range. Crafted in 100% recycled 14kt solid gold with ethically sourced diamonds, the range is a unique and modern twist on classic luxury jewellery. Designed to be worn every day with any look.
14kt Gold Collection
We launched our 14kt Gold Collection in 2021 as our first ever solid gold range. This fine jewellery collection has our signature Ania Haie aesthetic, crafted in solid gold rather than plated for those looking for something extra special. It was important to us and our designers to ensure the collection was as sustainable and ethically designed as possible. This is why every piece is crafted using 100% recycled solid gold.
Stargazer 
The newest edit to be a part of the 14kt Gold collection is Stargazer. Designed as classic, timeless pieces, each Stargazer piece of jewellery is inspired by the celestial trend that is proving to be a key look for 2022. From star constellations to moons, the collection evokes a sense of the most beautiful and magical midnight sky. Inspired by twinkling stars and the shimmer and beauty of the night.
Celestial Studs, Huggies & Hoops 
In the Stargazer collection, you'll find the perfect range of celestial stud earrings, huggies and hoops. The flat-back labret style studs come as singles, encouraging you to create a unique earring stack with a touch of real diamonds. You'll also discover the chicest pair of moon-shaped studs complete with a sprinkling of diamond sparkle.
Our Stargazer huggies are the effortlessly elevated version of a classic everyday mini hoop – again, with the perfect touch of diamond shine. And lastly, you'll find a coordinating pair of classic mid-size hoops that promise to up the ante when accessorising any look.
Delicate Chains 
From the most perfectly simple diamond bracelets to a selection of beautiful necklaces, the chains in this collection are all about the diamonds. If you've ever wanted to add 'everyday diamonds' to your personal collection, this is your new go-to range. Discover bar and pendant styles, each finished with a constellation-inspired touch of sparkle in solid gold. 
Celestial Inspired Everyday Rings  
The Stargazer collection is finished with the perfect delicate rings. Ideal to shine solo or stack, it's all about minimal simplicity, complete with genuine diamonds. These are wearable luxury rings that you'll be styling every day. 
Discover something truly magical this season with the brand-new Stargazer collection. The perfect delicate balance of everyday classic and wearable pieces, one of the season's biggest trends and a touch of attainable luxury, Stargazer makes a perfect choice for yourself or as a gift. A sprinkling of real diamonds paired with solid 14kt gold proves that this new collection is the only way to do the celestial trend this season.
Shop Stargazer now online with Ania Haie.
Collection 2019
Sale 70% Off
Third slide